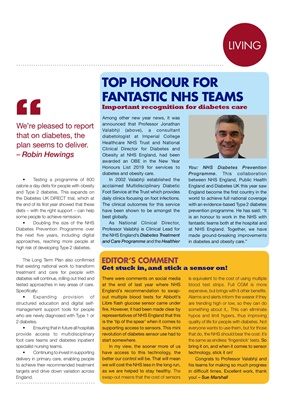 KITLIVING
• Testing a programme of 800
calorie a day diets for people with obesity
and Type 2 diabetes. This expands on
the Diabetes UK DiRECT trial, which at
the end of its first year showed that these
diets - with the right support - can help
some people to achieve remission.
• Doubling the size of the NHS
Diabetes Prevention Programme over
the next five years, including digital
approaches, reaching more people at
high risk of developing Type 2 diabetes.
The Long Term Plan also confirmed
that existing national work to transform
treatment and care for people with
diabetes will continue, rolling out tried and
tested approaches in key areas of care.
Specifically:
• Expanding provision of
structured education and digital selfmanagement support tools for people
who are newly diagnosed with Type 1 or
2 diabetes.
• Ensuring that in future all hospitals
provide access to multidisciplinary
foot care teams and diabetes inpatient
specialist nursing teams.
• Continuing to invest in supporting
delivery in primary care, enabling people
to achieve their recommended treatment
targets and drive down variation across
England.
"We're pleased to report
that on diabetes, the
plan seems to deliver.
- Robin Hewings
Among other new year news, it was announced that Professor Jonathan Valabhji, a
consultant diabetologist at Imperial College Healthcare NHS Trust and National Clinical
Director for Diabetes and Obesity at NHS England, had been awarded an OBE in the
New Year Honours List 2019 for services to diabetes and obesity care.
In 2002 Valabhji established the acclaimed Multidisciplinary Diabetic Foot Service at
the Trust which provides daily clinics focusing on foot infections including osteomyelitis
and Charcot foot disease. The clinical outcomes for this service have been shown to be
amongst the best globally.
As National Clinical Director, Professor Valabhji is Clinical Lead for the NHS England
Diabetes Programme, including both the Diabetes Treatment and Care Programme and
the Healthier You: NHS Diabetes Prevention Programme. This collaboration between
NHS England, Public Health England and Diabetes UK this year saw England become
the first country in the world to achieve full national coverage with an evidence-based
Type 2 diabetes prevention programme.
Professor Valabhji said: "I am delighted to receive this award. It is an honour to work
in the NHS, with fantastic teams both at the hospital and at NHS England. Together, we
have made some ground-breaking improvements in diabetes and obesity care."
TOP HONOUR FOR
FANTASTIC NHS TEAMS
Important recognition for diabetes care