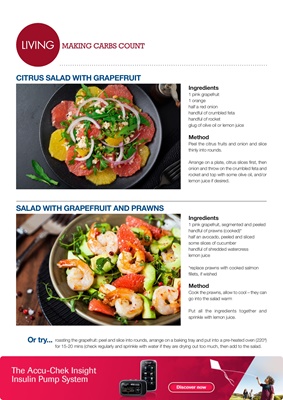 LIVINGLIVING
CITRUS SALAD WITH GRAPEFRUIT
Ingredients
1 pink grapefruit
1 orange
half a red onion
handful of crumbled feta
handful of rocket
glug of olive oil or lemon juice
Method
Peel the citrus fruits and onion and slice
thinly into rounds.
Arrange on a plate, citrus slices first, then
onion and throw on the crumbled feta and
rocket and top with some olive oil, and/or
lemon juice if desired.
MAKING CARBS COUNT
SALAD WITH GRAPEFRUIT AND PRAWNS
Ingredients
1 pink grapefruit, segmented and peeled
handful of prawns (cooked)*
half an avocado, peeled and sliced
some slices of cucumber
handful of shredded watercress
lemon juice
*replace prawns with cooked salmon
fillets, if wished
Method
Cook the prawns, allow to cool - they can
go into the salad warm
Put all the ingredients together and
sprinkle with lemon juice.
Or try... roasting the grapefruit: peel and slice into rounds, arrange on a gaking tray and put into a pre-heated oven (220º)
for 15-20 mins (check regularly and sprinkle with water if they are drying out to much, then add to the salad.