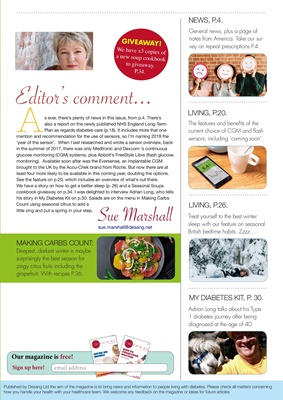 Published by Desang Ltd the aim of this newsletter is to bring news and information to people living with diabetes. Please check all matters
concerning how you handle your health with your healthcare team. We welcome any feedback on the magazine or ideas for future articles.
EDITOR: Sue Marshall sue.marshall@desang.net
For details of our editorial policy see The Small Print.
Medtr, P.16.
Sue Marshall
Love 'P.28.
We are living in an amazing brave new world when it comes to diabetes
care, with many innovations taking place - from apps to mechanics to
psychology when it comes to improving the lives of people living with
diabetes. One of my challenges when putting each issue together is to try to maintain
some consistency in terms of product referencing. But I can tell you, I do get confused!
Each manufacturer seems to have its own set of definitions, with some products or
features being difficult to clearly describe or define. Given time, I know that these
innovations and their descriptions will settle, with a consensus coming in that will make
it easier to group solutions by their beneifts. In this issue there's a long feature on the
new 'hybrid closed loop' insulin pump from Medtronic, which is now available in the
UK. One thing you can be sure of is that improvements and choices are coming along
quickly these days, which is worth pausing for to celebrate. Season's greetings!
Editor's comment...
ISSUE 30
MAGAZINE
DESANG
PLUS • New Products • Groovy giveaways • News (for T1 and T2)
WE'RE NO
ANGELS
But business as usual is best for
diabetics at Christmas
MAKING
CARBS COUNT:
CHESTNUTS ROASTING
ON OPEN FIRES
Our magazine is free!
Sign up here! email address
MY DIABETES KIT:
'Violin P.24.
FEATURE: MAKING CARBS COUNT: