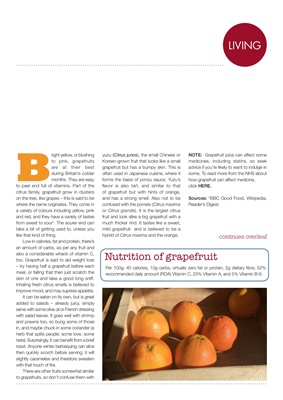 KITLIVING
continues overleaf
Bright yellow, or
blushing to pink,
grapefruits are at their
best during Britain's
colder months. They
are easy to peel and full of vitamins. Part
of the citrus family, grapefruit is part of the
citrus family and grows in clusters on the
tree, like grapes - this is said to be where
the name originates. Grapefruits come in
a variety of colours including yellow, pink
and red, and they have a variety of tastes
from sweet to sour*. The sourer end can
take a bit of getting used to, unless you
like that kind of thing.
Low in calories, fat and protein, there's
an amount of carbs, as per any fruit and
also a considerable whack of vitamin C,
too. Grapefruit is said to aid weight loss
- try having half a grapefruit before each
meal, or failing that then just scratch the
skin of one and take a good long sniff.
Inhaling fresh citrus smells is believed to
improve mood, and may supress appetite.
It can be eaten on its own, but is
great added to salads - already juicy,
simply serve with some olive oil or French
dressing with salad leaves. It goes well
with shrimp and prawns too, so bung
some of those in, and maybe chuck in
some coriander (a herb that splits people;
some love, some hate). Surprisingly, it can
benefit from a brief roast. Anyone winter
barbequing can slice then quickly scorch
before serving; it will slightly caramelise
and therefore sweeten with that touch of
fire.
Nutrition of grapefruit
Per 100g: 40 calories, 10g carbs, virtually zero fat or protein, 2g dietary fibre, 52%
recommended daily amount (RDA) Vitamin C, 23% Vitamin A, and 5% Vitamin B-6.
There are other fruits somewhat similar
to grapefruits, so don't confuse them with
yuzu (citrus junos), the small Chinese or
Korean-grown fruit that looks like a small
grapefruit but has a bumpy skin. This is
often used in Japanese cuisine, where it
forms the basis of ponzu sauce. Yuzu's
flavor is also tart, and similar to that
of grapefruit but with hints of orange,
and has a strong smell. Also not to be
confused with the pomelo (Citrus maxima
or Citrus grandis), is the largest citrus fruit
and look slike a big grapefruit with a much
thicker rind. It tastes like a sweet, mild
grapefruit and is believed to be a hybrid
of Citrus maxima and the orange.
NOTE: Grapefruit juice can affect some
medicines, including statins, so seek
advice if you're likely to want to indulge in
some. To read more from the NHS about
how grapefruit can affect medicine,
click HERE.
Sources: *BBC Good Food, Wikipedia,
Reader's Digest