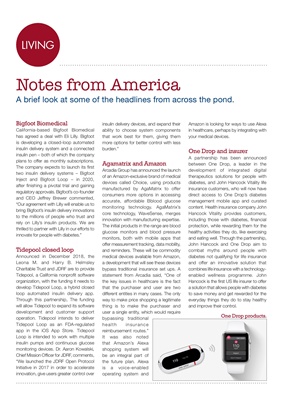 LIVINGLIVING
Bigfoot Biomedical
California-based Bigfoot Biomedical
has agreed a deal with Eli Lilly. Bigfoot
is developing a closed-loop automated
insulin delivery system and a connected
insulin pen - both of which the company
plans to offer as monthly subscriptions.
The company expects to launch its first
two insulin delivery systems - Bigfoot
Inject and Bigfoot Loop - in 2020,
after finishing a pivotal trial and gaining
regulatory approvals. Bigfoot's co-founder
and CEO Jeffrey Brewer commented,
"Our agreement with Lilly will enable us to
bring Bigfoot's insulin delivery innovations
to the millions of people who trust and
rely on Lilly's insulin products. We are
thrilled to partner with Lilly in our efforts to
innovate for people with diabetes."
Tidepool closed loop
Announced in December 2018, the
Leona M. and Harry B. Helmsley
Charitable Trust and JDRF are to provide
Tidepool, a California nonprofit software
organization, with the funding it needs to
develop Tidepool Loop, a hybrid closed
loop automated insulin delivery app.
Through this partnership, The funding
will allow Tidepool to expand its software
development and customer support
operation. Tidepool intends to deliver
Tidepool Loop as an FDA-regulated
app in the iOS App Store. Tidepool
Loop is intended to work with multiple
insulin pumps and continuous glucose
monitoring devices. Dr. Aaron Kowalski,
Chief Mission Officer for JDRF, comments,
"We launched the JDRF Open Protocol
Initiative in 2017 in order to accelerate
innovation, give users greater control over
insulin delivery devices, and expand their
ability to choose system components
that work best for them, giving them
more options for better control with less
burden."
Agamatrix and Amazon
Arcadia Group has announced the launch
of an Amazon-exclusive brand of medical
devices called Choice, using products
manufactured by AgaMatrix to offer
consumers more options in accessing
accurate, affordable Bblood glucose
monitoring technology. AgaMatrix's
core technology, WaveSense, merges
innovation with manufacturing expertise.
The initial products in the range are blood
glucose monitors and blood pressure
monitors, both with mobile apps that
offer measurement tracking, data mobility,
and reminders. These will be commodity
medical devices available from Amazon,
a development that will see these devices
bypass traditional insurance set ups. A
statement from Arcadia said, "One of the
key issues in healthcare is the fact that
the purchaser and user are two different
entities in many cases. The only way to
make price shopping a legitimate thing is
to make the purchaser and user a single
entity, which would require bypassing
traditional health insurance reimbursement
routes." It was also
noted that Amazon's
Alexa shopping system
will be an integral part
of the future plan. Alexa
is a voice-enabled
operating system and
Amazon is looking for
ways to use Alexa in
healthcare, perhaps by
integrating with your medical devices.
One Drop and insurer
A partnership has been announced
between One Drop, a leader in the
development of integrated digital
therapeutics solutions for people with
diabetes, and John Hancock Vitality life
insurance customers, who will now have
direct access to One Drop's diabetes
management mobile app and curated
content. Health insurance company John
Hancock Vitality provides customers,
including those with diabetes, financial
protection, while rewarding them for the
healthy activities they do, like exercising
and eating well. Through the partnership,
John Hancock and One Drop aim to
combat myths around people with
diabetes not qualifying for life insurance
and offer an innovative solution that
combines life insurance with a technologyenabled
wellness programme. John
Hancock is the first US life insurer to offer
a solution that allows people with diabetes
to save money and get rewarded for the
everyday things they do to stay healthy
and improve their control.
Notes from America
A brief look at some of the headlines from across the pond.
One Drop products.