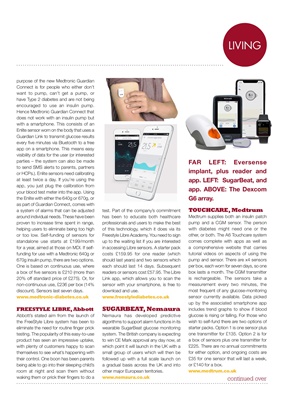 KITLIVING
readings are trending up or down. The
purpose of the new Medtronic Guardian
Connect is for people who either don't
want to pump, can't get a pump, or
have Type 2 diabetes and are not being
encouraged to use an insulin pump.
Therefore Medtronic Guardian Connect
that does not work with an insulin pump
but with a smartphone. This consists of
an Enlite sensor worn on the body that
uses a Guardian Link to transmit glucose
results every five minutes via Bluetooth to
a free app on a smartphone. This means
easy visibility of data for the user (or
interested parties -- the system can also
be made to send SMS alerts to parents,
partners or HCPs.). Enlite sensors need
calibrating at least twice a day. If you're
using the app, you just plug the calibration
from your blood test meter into the app.
Using the Enlite with either the 640g or
670g, or as part of Guardian Connect,
comes with a system of alarms that can
be adjusted around an individual needs.
These have been proven to increase time
spent in range, helping users to eliminate
being too high or too low.
FREESTYLE LIBRE, Abbott
Abbott's stated aim from the launch of
the FreeStyle Libre system has been to
eliminate the need for routine finger prick
testing. The popularity of this easy-to-use
product has seen an impressive uptake,
with plenty of customers happy to scan
themselves to see what's happening
with their control. One boon has been
parents being able to go into their
sleeping child's room at night and scan
them without waking them or prick their
fingers to do a test. Part of the company's
commitment has been to educate both
healthcare professionals and users to
make the best of this technology, which
it does via its Freestyle Libre Academy.
You need to sign up to the waiting list
if you are interested in accessing Libre
sensors. A starter pack costs £159.95
for one reader (which should last years)
and two sensors which each should last
14 days. Subsequent readers or sensors
cost £57.95. The Libre Link app, which
allows you to scan the sensor with your
smartphone, is free to download and use.
SUGARBEAT, Nemaura
Nemaura has developed predictive
algorithms to support alarm functions in its
wearable SugarBeat glucose monitoring
system. The British company is expecting
to win CE Mark approval any day now, at
which point it will launch in the UK with a
small group of users which will then be
followed up with a full scale launch on
a gradual basis across the UK and into
other major European territories.
TOUCHCARE, Medtrum
Medtrum supplies both an insulin patch
pump and a CGM sensor. The person
with diabetes might need one or the
other, or both. The A6 Touchcare system
comes complete with apps as well as
a comprehensive website that carries
tutorial videos on aspects of using the
pump and sensor. There are x4 sensors
per box, each worn for seven days, so one
box lasts a month. The CGM transmitter
is rechargeable. The sensors take a
measurement every two minutes, the
most frequent of any glucose-monitoring
sensor currently available. Data picked
up by the associated smartphone app
includes trend graphs to show if blood
glucose is rising or falling. For those who
wish to self-fund there are two options for
starter packs. Option 1 is one sensor plus
one transmitter for £135. Option 2 is for
a box of sensors plus one transmitter for
£225. There are no annual commitments
for either option, and ongoing costs are
£35 for one sensor that will last a week,
or £140 for a box.
continued over
FAR LEFT: Eversense
implant, plus reader and
app. LEFT: SugarBeat, and
app. ABOVE: The Dexcom
G6 array.