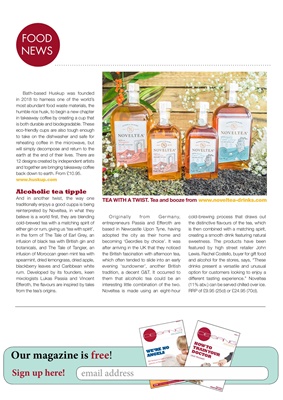 KIT
FOOD
NEWS
Bath-based Huskup was founded
in 2018 to harness one of the world's
most abundant food waste materials, the
humble rice husk, to begin a new chapter
in takeaway coffee by creating a cup that
is both durable and biodegradable. These
eco-friendly cups are also tough enough
to take on the dishwasher and safe for
reheating coffee in the microwave, but
will simply decompose and return to the
earth at the end of their lives. There are
12 designs created by independent artists
and together are bringing takeaway coffee
back down to earth. From £10.95.
Alcoholic tea tipple
And in another twist, the way one
traditionally enjoys a good cuppa is being
reinterpreted by Noveltea, in what they
believe is a world first, they are blending
cold-brewed tea with a matching spirit of
either gin or rum, giving us 'tea with spirit',
in the form of The Tale of Earl Grey, an
infusion of black tea with British gin and
botanicals, and The Tale of Tangier, an
infusion of Moroccan green mint tea with
spearmint, dried lemongrass, dried apple,
blackberry leaves and Caribbean white
rum. Developed by its founders, keen
mixologists Lukas Passia and Vincent
Efferoth, the flavours are inspired by tales
from the tea's origins.
Originally from Germany,
entrepreneurs Passia and Efferoth are
based in Newcastle Upon Tyne, having
adopted the city as their home and
becoming 'Geordies by choice'. It was
after arriving in the UK that they noticed
the British fascination with afternoon tea,
which often tended to slide into an early
evening 'sundowner', another British
tradition, a decent G&T. It occurred to
them that alcoholic tea could be an
interesting little combination of the two.
Noveltea is made using an eight-hour
cold-brewing process that draws out
the distinctive flavours of the tea, which
is then combined with a matching spirit,
creating a smooth drink featuring natural
sweetness. The products have been
featured by high street retailer John
Lewis. Rachel Costello, buyer for gift food
and alcohol for the stores, says, "These
drinks present a versatile and unusual
option for customers looking to enjoy a
different tasting experience." Noveltea
(11% abv.) can be served chilled over ice.
RRP of £9.95 (25cl) or £24.95 (70cl).
ISSUE 30
MAGAZINE
DESANG
PLUS • New Products • Groovy giveaways • News (for T1 and T2)
WE'RE NO
ANGELS
But business as usual is best for
diabetics at Christmas
MAKING
CARBS COUNT:
CHESTNUTS ROASTING
ON OPEN FIRES
Our magazine is free!
Sign up here! email address
TEA WITH A TWIST. Tea and booze from www.noveltea-drinks.com