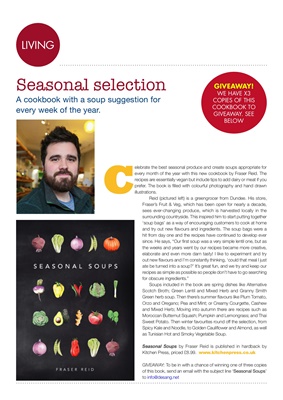 LIVINGLIVING
C
elebrate the best seasonal produce and create soups appropriate for
every month of the year with this new cookbook by Fraser Reid. The
recipes are essentially vegan but include tips to add dairy or meat if you
prefer. The book is filled with colourful photography and hand drawn
illustrations.
Reid (pictured left) is a greengrocer from Dundee. His store,
Fraser's Fruit & Veg, which has been open for nearly a decade,
sees ever-changing produce, which is harvested locally in the
surrounding countryside. This inspired him to start putting together
'soup bags' as a way of encouraging customers to cook at home
and try out new flavours and ingredients. The soup bags were a
hit from day one and the recipes have continued to develop ever
since. He says, "Our first soup was a very simple lentil one, but as
the weeks and years went by our recipes became more creative,
elaborate and even more darn tasty! I like to experiment and try
out new flavours and I'm constantly thinking, 'could that meal I just
ate be turned into a soup?' It's great fun, and we try and keep our
recipes as simple as possible so people don't have to go searching
for obscure ingredients."
Soups included in the book are spring dishes like Alternative
Scotch Broth; Green Lentil and Mixed Herb and Granny Smith
Green herb soup. Then there's summer flavours like Plum Tomato,
Orzo and Oregano; Pea and Mint; or Creamy Courgette, Cashew
and Mixed Herb; Moving into autumn there are recipes such as
Moroccan Butternut Squash; Pumpkin and Lemongrass; and Thai
Sweet Potato. Then winter favourites round off the selection, from
Spicy Kale and Noodle, to Golden Cauliflower and Almond, as well
as Tunisian Hot and Smoky Vegetable Soup.
Seasonal Soups by Fraser Reid is published in hardback by
Kitchen Press, priced at £8.99. www.kitchenpress.co.uk
GIVEAWAY: To be in with a chance of winning one of three info@desang.net this book, send an email with the subject line 'Seasonal Soups'
to info@desang.net
Seasonal selection
A cookbook with a soup suggestion for
every week of the year.
GIVEAWAY!
WE HAVE X3
COPIES OF THIS
COOKBOOK TO
GIVEAWAY. SEE
BELOW