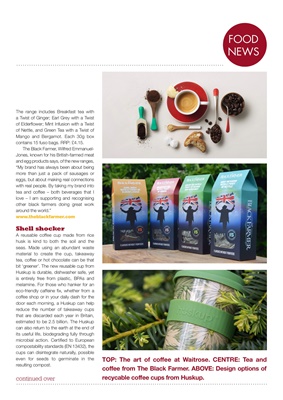 KIT
FOOD
NEWS
continued over
The range includes Breakfast tea with
a Twist of Ginger; Earl Grey with a Twist
of Elderflower; Mint Infusion with a Twist
of Nettle, and Green Tea with a Twist of
Mango and Bergamot. Each 30g box
contains 15 fuso bags. RRP: £4.15.
The Black Farmer, Wilfred EmmanuelJones, known for his British-farmed meat
and egg products says, of the new ranges,
"My brand has always been about being
more than just a pack of sausages or
eggs, but about making real connections
with real people. By taking my brand into
tea and coffee - both beverages that I
love - I am supporting and recognising
other black farmers doing great work
around the world."
Shell shocker
A reusable coffee cup made from rice
husk is kind to both the soil and the
seas. Made using an abundant waste
material to create the cup, takeaway
tea, coffee or hot chocolate can be that
bit 'greener'. The new reusable cup from
Huskup is durable, dishwasher safe, yet
is entirely free from plastic, BPAs and
melamine. For those who hanker for an
eco-friendly caffeine fix, whether from a
coffee shop or in your daily dash for the
door each morning, a Huskup can help
reduce the number of takeaway cups
that are discarded each year in Britain,
estimated to be 2.5 billion. The Huskup
can also return to the earth at the end of
its useful life, biodegrading fully through
microbial action. Certified to European
compostability standards (EN 13432), the
cups can disintegrate naturally, possible
even for seeds to germinate in the
resulting compost.
TOP: The art of coffee at Waitrose. CENTRE: Tea and
coffee from The Black Farmer. ABOVE: Design options of
recycable coffee cups from Huskup.