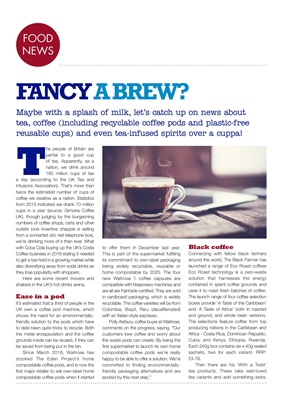 LIVINGLIVING
FOOD
NEWS
T
he people of Britain are
partial to a good cup
of tea. Apparently, as a
nation, we drink around
165 million cups of tea
a day (according to the UK Tea and
Infusions Association). That's more than
twice the estimated number of cups of
coffee we swallow as a nation. Statistics
from 2013 indicated we drank 70 million
cups in a year (source: Gimoka Coffee
UK), though judging by the burgeoning
numbers of coffee shops, carts and other
outlets (one inventive chappie is selling
from a converted old, red telephone box),
we're drinking more of it than ever. What
with Coca Cola buying up the UK's Costa
Coffee business in 2018 stating it needed
to get a toe-hold in a growing market while
also diversifying away from soda drinks as
they lose popularity with shoppers.
Here are some recent movers and
shakers in the UK's hot drinks arena.
Ease in a pod
It's estimated that a third of people in the
UK own a coffee pod machine, which
shows the need for an environmentallyfriendly solution to the pods which have
to date been quite tricky to recycle. Both
the metal encapsulation and the coffee
grounds inside can be reused, if they can
be saved from being put in the bin.
Since March 2018, Waitrose has
stocked The Eden Project's home
compostable coffee pods, and is now the
first major retailer to sell own-label home
compostable coffee pods when it started
FANCY A BREW?
Maybe with a splash of milk, let's catch up on news about
tea, coffee (including recyclable coffee pods and plastic-free
reusable cups) and even tea-infused spirits over a cuppa!
to offer them in December last year.
This is part of the supermarket fulfilling
its commitment to own-label packaging
being widely recyclable, reusable or
home compostable by 2025. The four
new Waitrose 1 coffee capsules are
compatible with Nespresso machines and
are all are Fairtrade certified. They are sold
in cardboard packaging, which is widely
recyclable. The coffee varieties will be from
Colombia, Brazil, Peru (decaffeinated)
with an Italian-style espresso.
Polly Astbury, coffee buyer at Waitrose,
comments on the progress, saying, "Our
customers love coffee and worry about
the waste pods can create. By being the
first supermarket to launch its own home
compostable coffee pods we're really
happy to be able to offer a solution. We're
committed to finding environmentallyfriendly packaging alternatives
and are
excited by this next step."
Black coffee
Connecting with fellow black farmers
around the world, The Black Farmer has
launched a range of Eco Roast coffees
Eco Roast technology is a zero-waste
solution that harnesses the energy
contained in spent coffee grounds and
uses it to roast fresh batches of coffee.
The launch range of four coffee selection
boxes provide 'A Taste of the Caribbean'
and 'A Taste of Africa' both in roasted
and ground, and whole bean versions.
The selections feature coffee from top
producing nations in the Caribbean and
Africa - Costa Rica, Dominican Republic,
Cuba; and Kenya, Ethiopia, Rwanda.
Each 240g box contains six x 40g sealed
sachets, two for each variant. RRP:
£4.79.
Then there are his 'With a Twist'
tea products. These take well-loved
tea variants and add something extra.