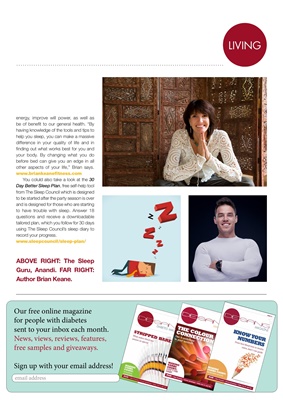 KITLIVING
ABOVE RIGHT: The Sleep
Guru, Anandi. FAR RIGHT:
Author Brian Keane.
Our free online magazine
for people with diabetes
sent to your inbox each month.
News, views, reviews, features,
free samples and giveaways.
Sign up with your email address!
email address
energy, improve will power, as well as
be of benefit to our general health. "By
having knowledge of the tools and tips to
help you sleep, you can make a massive
difference in your quality of life and in
finding out what works best for you and
your body. By changing what you do
before bed can give you an edge in all
other aspects of your life," Brian says.
You coluld also take a look at the 30
Day Better Sleep Plan, free self-help tool
from The Sleep Council which is designed
to be started after the party season is over
and is designed for those who are starting
to have trouble with sleep. Answer 18
questions and receive a downloadable
tailored plan, which you follow for 30 days
using The Sleep Council's sleep diary to
record your progress.
www.sleepcouncil/sleep-plan/