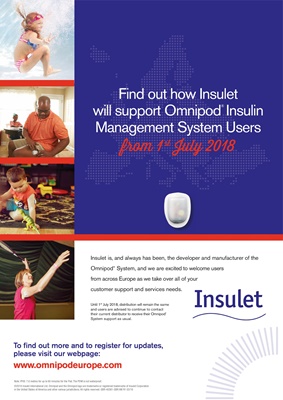 Note: IPX8: 7.6 metres for up to 60 minutes for the Pod. The PDM is not waterproof.
©2018 Insulet International Ltd. Omnipod and the Omnipod logo are trademarks or registered trademarks of Insulet Corporation
in the United States of America and other various jurisdictions. All rights reserved. GBR-40381-GBR AW R1 03/18
Insulet is, and always has been, the developer and manufacturer of the
Omnipod
®
System, and we are excited to welcome users
from across Europe as we take over all of your
customer support and services needs.
Find out how Insulet
will support Omnipod
®
Insulin
Management System Users
from 1st July 2018
To find out more and to register for updates,
please visit our webpage:
Until 1st July 2018, distribution will remain the same
and users are advised to continue to contact
their current distributor to receive their Omnipod
®
System support as usual.