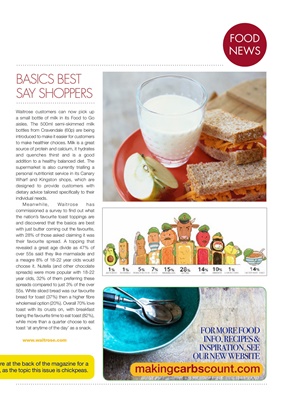 KITLIVING
BASICS BEST
SAY SHOPPERS
FOOD
NEWS
Waitrose customers can now pick up
a small bottle of milk in its Food to Go
aisles. The 500ml semi-skimmed milk
bottles from Cravendale (60p) are being
introduced to make it easier for customers
to make healthier choices. Milk is a great
source of protein and calcium, it hydrates
and quenches thirst and is a good
addition to a healthy balanced diet. The
supermarket is also currently trialling a
personal nutritionist service in its Canary
Wharf and Kingston shops, which are
designed to provide customers with
dietary advice tailored specifically to their
individual needs.
Meanwhile, Waitrose has
commissioned a survey to find out what
the nation's favourite toast toppings are
and discovered that the basics are best
with just butter coming out the favourite,
with 28% of those asked claiming it was
their favourite spread. A topping that
revealed a great age divide as 47% of
over 55s said they like marmalade and
a meagre 8% of 18-22 year olds would
choose it. Nutella (and other chocolate
spreads) were more popular with 18-22
year olds, 32% of them preferring these
spreads compared to just 3% of the over
55s. White sliced bread was our favourite
bread for toast (37%) then a higher fibre
wholemeal option (20%). Overall 70% love
toast with its crusts on, with breakfast
being the favourite time to eat toast (82%),
while more than a quarter choose to eat
toast 'at anytime of the day' as a snack.
FOR MORE FOOD
INFO, RECIPES &
INSPIRATION, SEE
OUR NEW WEBSITE
makingcarbscount.com
re at the back of the magazine for a
, as the topic this issue is chickpeas.