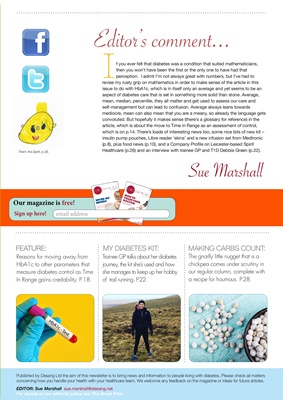 Published by Desang Ltd the aim of this newsletter is to bring news and information to people living with diabetes. Please check all matters
concerning how you handle your health with your healthcare team. We welcome any feedback on the magazine or ideas for future articles.
EDITOR: Sue Marshall sue.marshall@desang.net
For details of our editorial policy see The Small Print.
Reasons for moving away from
HbA1c to other parameters that
measure diabetes control as Time
In Range gains credability. P.18.
Sue Marshall
The gnarlly little nugget that is a
chickpea comes under scruitiny in
our regular column, complete with
a recipe for houmous. P.28.
If you ever felt that diabetes was a condition that suited mathematicians,
then you won't have been the first or the only one to have had that
perception. I admit I'm not always great with numbers, but I've had to
revise my rusty grip on mathematics in order to make sense of the article in this
issue to do with HbA1c, which is in itself only an average and yet seems to be an
aspect of diabetes care that is set in something more solid than stone. Average,
mean, median, percentile, they all matter and get used to assess our care and
self-management but can lead to confusion. Average always leans towards
mediocre, mean can also mean that you are a meany, so already the language gets
convoluted. But hopefully it makes sense (there's a glossary for reference) in the
article, which is about the move to Time in Range as an assessment of control,
which is on p.14. There's loads of interesting news too, some nice bits of new kit -
insulin pump pouches, Libre reader 'skins' and a new infusion set from Medtonic
(p.8), plus food news (p.10), and a Company Profile on Leicester-based Spirit
Healthcare (p.26) and an interview with trainee GP and T1D Debbie Green (p.22).
Editor's comment...
ISSUE 30
MAGAZINE
DESANG
PLUS • New Products • Groovy giveaways • News (for T1 and T2)
WE'RE NO
ANGELS
But business as usual is best for
diabetics at Christmas
MAKING
CARBS COUNT:
CHESTNUTS ROASTING
ON OPEN FIRES
Our magazine is free!
Sign up here! email address
MY DIABETES KIT:
Trainee GP talks about her diabetes
journey, the kit she's used and how
she manages to keep up her hobby
of trail running. P.22.
FEATURE: MAKING CARBS COUNT: