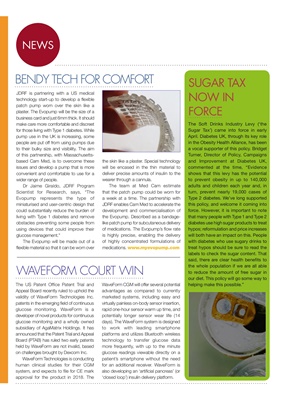 NEWS
BENDY TECH FOR COMFORT
WAVEFORM COURT WIN
SUGAR TAX
NOW IN
FORCE
JDRF is partnering with a US medical
technology start-up to develop a flexible
patch pump worn over the skin like a
plaster. The Evopump will be the size of a
business card and just 6mm thick. It should
make care more comfortable and discreet
for those living with Type 1 diabetes. While
pump use in the UK is increasing, some
people are put off from using pumps due
to their bulky size and visibility. The aim
of this partnership, with Massachusettsbased Cam Med, is to overcome
these
issues and develop a pump that is more
convenient and comfortable to use for a
wider range of people.
Dr Jaime Giraldo, JDRF Program
Scientist for Research, says, "The
Evopump represents the type of
miniaturised and user-centric design that
could substantially reduce the burden of
living with Type 1 diabetes and remove
obstacles preventing some people from
using devices that could improve their
glucose management."
The Evopump will be made out of a
flexible material so that it can be worn over
The US Patent Office Patent Trial and
Appeal Board recently ruled to uphold the
validity of WaveForm Technologies Inc.
patents in the emerging field of continuous
glucose monitoring. WaveForm is a
developer of novel products for continuous
glucose monitoring and a wholly owned
subsidiary of AgaMatrix Holdings. It has
announced that the Patent Trial and Appeal
Board (PTAB) has ruled two early patents
held by WaveForm are not invalid, based
on challenges brought by Dexcom Inc.
WaveForm Technologies is conducting
human clinical studies for their CGM
system, and expects to file for CE mark
approval for the product in 2018. The
WaveForm CGM will offer several potential
advantages as compared to currently
marketed systems, including easy and
virtually painless on-body sensor insertion,
rapid one-hour sensor warm up time, and
potentially longer sensor wear life (14
days). The WaveForm system is designed
to work with leading smartphone
platforms and utilizes Bluetooth wireless
technology to transfer glucose data
more frequently, with up to the minute
glucose readings viewable directly on a
patient's smartphone without the need
for an additional receiver. WaveForm is
also developing an 'artificial pancreas' (or
'closed loop') insulin delivery platform.
The Soft Drinks Industry Levy ('the
Sugar Tax') coming into force in early
April. Diabetes UK, through its key role
in the Obesity Health Alliance, has been
a vocal supporter of this policy. Bridget
Turner, Director of Policy, Campaigns
and Improvement at Diabetes UK,
commented at the time, "Evidence
shows that this levy has the potential
to prevent obesity in up to 140,000
adults and children each year and, in
turn, prevent nearly 19,000 cases of
Type 2 diabetes. We've long supported
this policy, and welcome it coming into
force. However, it is important to note
that many people with Type 1 and Type 2
diabetes use high sugar products to treat
hypos; reformulation and price increases
will both have an impact on this. People
with diabetes who use sugary drinks to
treat hypos should be sure to read the
labels to check the sugar content. That
said, there are clear health benefits to
the whole population if we are all able
to reduce the amount of free sugar in
our diet. This policy will go some way to
helping make this possible."
the skin like a plaster. Special technology
will be encased in the thin material to
deliver precise amounts of insulin to the
wearer through a cannula.
The team at Med Cam estimate
that the patch pump could be worn for
a week at a time. The partnership with
JDRF enables Cam Med to accelerate the
development and commercialisation of
the Evopump. Described as a bandagelike patch pump for subcutaneous delivery
of medications. The Evopump's flow rate
is highly precise, enabling the delivery
of highly concentrated formulations of
medications. www.myevopump.com