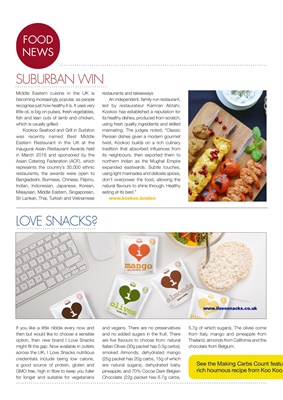 LIVINGLIVING
FOOD
NEWS
LOVE SNACKS?
SUBURBAN WIN
Middle Eastern cuisine in the UK is
becoming increasingly popular, as people
recognise just how healthy it is. It uses very
little oil, is big on pulses, fresh vegetables,
fish and lean cuts of lamb and chicken,
which is usually grilled.
Kookoo Seafood and Grill in Surbiton
was recently named Best Middle
Eastern Restaurant in the UK at the
inaugural Asian Restaurant Awards held
in March 2018 and sponsored by the
Asian Catering Federation (ACF), which
represents the country's 30,000 ethnic
restaurants, the awards were open to
Bangladeshi, Burmese, Chinese, Filipino,
Indian, Indonesian, Japanese, Korean,
Malaysian, Middle Eastern, Singaporean,
Sri Lankan, Thai, Turkish and Vietnamese
If you like a little nibble every now and
then but would like to choose a sensible
option, then new brand I Love Snacks
might fill the gap. Now available in outlets
across the UK, I Love Snacks nutritious
credentials include being low calorie,
a good source of protein, gluten and
GMO free, high in fibre to keep you fuller
for longer and suitable for vegetarians
restaurants and takeaways
An independent, family-run restaurant,
led by restaurateur Kamran Abtahi,
Kookoo has established a reputation for
its healthy dishes, produced from scratch,
using fresh quality ingredients and skilled
marinating. The judges noted, "Classic
Persian dishes given a modern gourmet
twist, Kookoo builds on a rich culinary
tradition that absorbed influences from
its neighbours, then exported them to
northern Indian as the Mughal Empire
expanded eastwards. Subtle touches,
using light marinades and delicate spices,
don't overpower the food, allowing the
natural flavours to shine through. Healthy
eating at its best."
and vegans. There are no preservatives
and no added sugars in the fruit. There
are five flavours to choose from: natural
Italian Olives (30g packet has 0.3g carbs);
smoked Almonds; dehydrated mango
(25g packet has 20g carbs, 15g of which
are natural sugars), dehydrated baby
pineapple, and 70% Cocoa Dark Belgian
Chocolate (22g packet has 6.7g carbs,
5.7g of which sugars). The olives come
from Italy, mango and pineapple from
Thailand, almonds from California and the
chocolate from Belgium.
See the Making Carbs Count featu
rich hommous recipe from Koo Koo