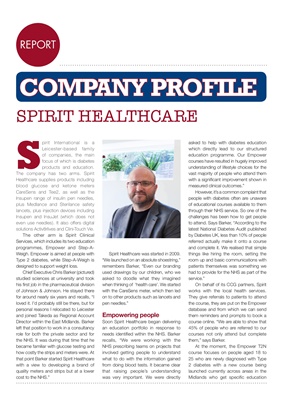 LIVINGLIVINGREPORT
SPIRIT HEALTHCARE
COMPANY PROFILE
Spirit International is a
Leicester-based family
of companies, the main
focus of which is diabetes
products and education.
The company has two arms. Spirit
Healthcare supplies products including
blood glucose and ketone meters
CareSens and Tee2, as well as the
Insupen range of insulin pen needles,
plus Medlance and Sterilance safety
lancets, plus injection devices including
Insupen and InsuJet (which does not
even use needles). It also offers digital
solutions Activ8rlives and Clini-Touch Vie.
The other arm is Spirit Clinical
Services, which includes its two education
programmes, Empower and Step-AWeigh.
Empower is aimed at people with
Type 2 diabetes, while Step-A-Weigh is
designed to support weight loss.
Chief Executive Chris Barker (pictured)
studied sciences at university and took
his first job in the pharmaceutical division
of Johnson & Johnson. He stayed there
for around nearly six years and recalls, "I
loved it. I'd probably still be there, but for
personal reasons I relocated to Leicester
and joined Takeda as Regional Account
Director within the East Midlands. Barker
left that position to work in a consultancy
role for both the private sector and for
the NHS. It was during that time that he
became familiar with glucose testing and
how costly the strips and meters were. At
that point Barker started Spirit Healthcare
with a view to developing a brand of
quality meters and strips but at a lower
cost to the NHS."
Spirit Healthcare was started in 2009.
"We launched on an absolute shoestring,"
remembers Barker, "Even our branding
used drawings by our children, who we
asked to doodle what they imagined
when thinking of 'health care'. We started
with the CareSens meter, which then led
on to other products such as lancets and
pen needles."
Empowering people
Soon Spirit Healthcare began delivering
an education portfolio in response to
needs identified within the NHS. Barker
recalls, "We were working with the
NHS prescribing teams on projects that
involved getting people to understand
what to do with the information gained
from doing blood tests. It became clear
that raising people's understanding
was very important. We were directly
asked to help with diabetes education
which directly lead to our structured
education programme. Our Empower
courses have resulted in hugely improved
understanding of lifestyle choices for the
vast majority of people who attend them
with a significant improvement shown in
measured clinical outcomes."
However, it's a common complaint that
people with diabetes often are unaware
of educational courses available to them
through their NHS service. So one of the
challenges has been how to get people
to attend. Says Barker, "According to the
latest National Diabetes Audit published
by Diabetes UK, less than 10% of people
referred actually make it onto a course
and complete it. We realised that simple
things like hiring the room, setting the
room up and basic communications with
patients themselves was something we
had to provide for the NHS as part of the
service."
On behalf of its CCG partners, Spirit
works with the local health services.
They give referrals to patients to attend
the course, they are put on the Empower
database and from which we can send
them reminders and prompts to book a
course online. "We are able to show that
45% of people who are referred to our
courses not only attend but complete
them," says Barker.
At the moment, the Empower T2N
course focuses on people aged 18 to
25 who are newly diagnosed with Type
2 diabetes with a new course being
launched currently across areas in the
Midlands who get specific education