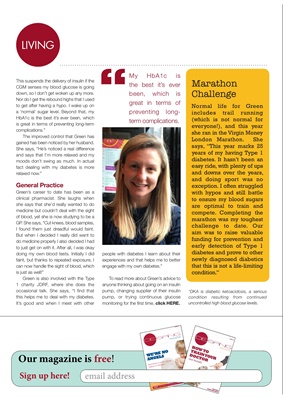 LIVINGLIVING
ISSUE 30
MAGAZINE
DESANG
PLUS • New Products • Groovy giveaways • News (for T1 and T2)
WE'RE NO
ANGELS
But business as usual is best for
diabetics at Christmas
MAKING
CARBS COUNT:
CHESTNUTS ROASTING
ON OPEN FIRES
Our magazine is free!
Sign up here! email address
My HbA1c is the
best it's ever been,
which is great in
terms of preventing
long-term
complications.""
This suspends the delivery of insulin if the
CGM senses my blood glucose is going
down, so I don't get woken up any more.
Nor do I get the rebound highs that I used
to get after having a hypo. I wake up on
a 'normal' sugar level. Beyond that, my
HbA1c is the best it's ever been, which
is great in terms of preventing long-term
complications."
The improved control that Green has
gained has been noticed by her husband.
She says, "He's noticed a real difference
and says that I'm more relaxed and my
moods don't swing as much. In actual
fact dealing with my diabetes is more
relaxed now."
General Practice
Green's career to date has been as a
clinical pharmacist. She laughs when
she says that she'd really wanted to do
medicine but couldn't deal with the sight
of blood, yet she is now studying to be a
GP. She says, "Cut knees, blood samples,
I found them just dreadful would faint.
But when I decided I really did want to
do medicine properly I also decided I had
to just get on with it. After all, I was okay
doing my own blood tests. Initially I did
faint, but thanks to repeated exposure, I
can now handle the sight of blood, which
is just as well!"
Green is also involved with the Type
1 charity JDRF, where she does the
occasional talk. She says, "I find that
this helps me to deal with my diabetes.
It's good and when I meet with other
people with diabetes I learn about their
experiences and that helps me to better
engage with my own diabetes."
To read more about Green's advice to
anyone thinking about going on an insulin
pump, changing supplier of their insulin
pump, or trying continuous glucose
monitoring for the first time, click HERE.
Marathon
Challenge
Normal life for Green
includes trail running (which
is not normal for everyone!),
and this year she is running
in the Virgin Money London
Marathon. She says, "This
year marks 25 years of my
having Type 1 diabetes. It
hasn't been an easy ride,
with plenty of ups and downs
over the years, and sport
was no exception. I often
struggled with hypos and
still battle to ensure my blood
sugars are optimal to train
and compete. Completing
the marathon will be my
toughest challenge to date.
Our aim is to raise valuable
funding for prevention and
early detection of Type 1
diabetes and prove to other
newly diagnosed diabetics
that this is not a limiting
condition."
*DKA is diabetic ketoacidosis, a serious
condition resulting from continued
uncontrolled high blood glucose levels.