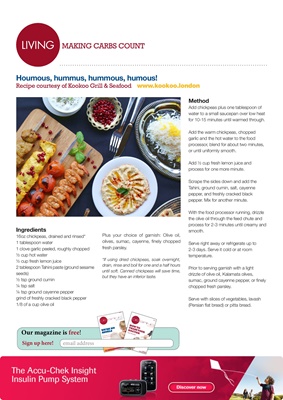 LIVINGLIVING
Houmous, hummus, hummous, humous!
Ingredients
16oz chickpeas, drained and rinsed*
1 tablespoon water
1 clove garlic peeled, roughly chopped
½ cup hot water
½ cup fresh lemon juice
2 tablespoon Tahini paste (ground
sesame seeds)
½ tsp ground cumin
¼ tsp salt
¼ tsp ground cayenne pepper
grind of freshly cracked black pepper
1/8 of a cup olive oil
Plus your choice of garnish: Olive oil,
olives, sumac, cayenne, finely chopped
fresh parsley.
*If using dried chickpeas, soak overnight,
drain, rinse and boil for one and a half hours
until soft. Canned chickpeas will save time,
but they have an inferior taste.
MAKING CARBS COUNT
Method
Add chickpeas plus one tablespoon of
water to a small saucepan over low heat
for 10-15 minutes until warmed through.
Add the warm chickpeas, chopped
garlic and the hot water to the food
processor, blend for about two minutes,
or until uniformly smooth.
Add ½ cup fresh lemon juice and
process for one more minute.
Scrape the sides down and add the
Tahini, ground cumin, salt, cayenne
pepper, and freshly cracked black
pepper. Mix for another minute.
Recipe courtesy of Kookoo Grill & Seafood www.kookoo.london
With the food processor running, drizzle
the olive oil through the feed chute and
process for 2-3 minutes until creamy and
smooth.
Serve right away or refrigerate up to
2-3 days. Serve it cold or at room
temperature.
Prior to serving garnish with a light
drizzle of olive oil, Kalamata olives,
sumac, ground cayenne pepper, or finely
chopped fresh parsley.
Serve with slices of vegetables, lavash
(Persian flat bread) or pitta bread.