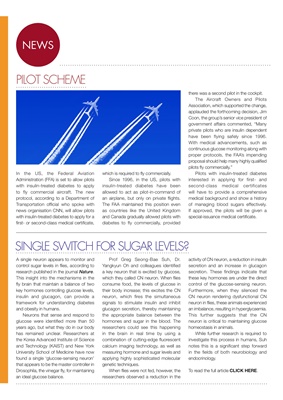 NEWS
PILOT SCHEME
In the US, the Federal Aviation
Administration (FFA) is set to allow pilots
with insulin-treated diabetes to apply
to fly commercial aircraft. The new
protocol, according to a Department of
Transportation official who spoke with
news organisation CNN, will allow pilots
with insulin-treated diabetes to apply for a
first- or second-class medical certificate,
which is required to fly commercially.
Since 1996, in the US, pilots with
insulin-treated diabetes have been
allowed to act as pilot-in-command of
an airplane, but only on private flights.
The FAA maintained this position even
as countries like the United Kingdom
and Canada gradually allowed pilots with
diabetes to fly commercially, provided
there was a second pilot in the cockpit.
The Aircraft Owners and Pilots
Association, which supported the change,
applauded the forthcoming decision, Jim
Coon, the group's senior vice president of
government affairs commented, "Many
private pilots who are insulin dependent
have been flying safely since 1996.
With medical advancements, such as
continuous glucose monitoring along with
proper protocols, the FAA's impending
proposal should help many highly qualified
pilots fly commercially."
Pilots with insulin-treated diabetes
interested in applying for first- and
second-class medical certificates
will have to provide a comprehensive
medical background and show a history
of managing blood sugars effectively.
If approved, the pilots will be given a
special-issuance medical certificate.
A single neuron appears to monitor and
control sugar levels in flies, according to
research published in the journal Nature.
This insight into the mechanisms in the
fly brain that maintain a balance of two
key hormones controlling glucose levels,
insulin and glucagon, can provide a
framework for understanding diabetes
and obesity in humans.
Neurons that sense and respond to
glucose were identified more than 50
years ago, but what they do in our body
has remained unclear. Researchers at
the Korea Advanced Institute of Science
and Technology (KAIST) and New York
University School of Medicine have now
found a single 'glucose-sensing neuron'
that appears to be the master controller in
Drosophila, the vinegar fly, for maintaining
an ideal glucose balance.
Prof Greg Seong-Bae Suh, Dr.
Yangkyun Oh and colleagues identified
a key neuron that is excited by glucose,
which they called CN neuron. When flies
consume food, the levels of glucose in
their body increase; this excites the CN
neuron, which fires the simultaneous
signals to stimulate insulin and inhibit
glucagon secretion, thereby maintaining
the appropriate balance between the
hormones and sugar in the blood. The
researchers could see this happening
in the brain in real time by using a
combination of cutting-edge fluorescent
calcium imaging technology, as well as
measuring hormone and sugar levels and
applying highly sophisticated molecular
genetic techniques.
When flies were not fed, however, the
researchers observed a reduction in the
activity of CN neuron, a reduction in insulin
secretion and an increase in glucagon
secretion. These findings indicate that
these key hormones are under the direct
control of the glucose-sensing neuron.
Furthermore, when they silenced the
CN neuron rendering dysfunctional CN
neuron in flies, these animals experienced
an imbalance, resulting in hyperglycaemia.
This further suggests that the CN
neuron is critical to maintaining glucose
homeostasis in animals.
While further research is required to
investigate this process in humans, Suh
notes this is a significant step forward
in the fields of both neurobiology and
endocrinology.
To read the full article CLICK HERE.
SINGLE SWITCH FOR SUGAR LEVELS?