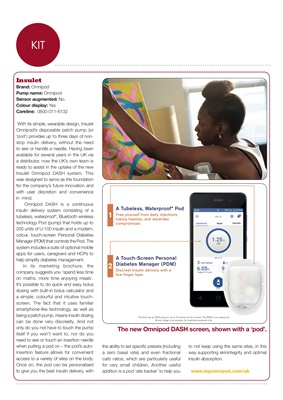 KIT
Insulet
Brand: Omnipod
Pump name: Omnipod
Sensor augmented: No.
Colour display: Yes
Careline: 0800-011-6132
With its simple, wearable design, Insulet
Omnipod's disposable patch pump (or
'pod') provides up to three days of nonstop insulin
delivery, without the need
to see or handle a needle. Having been
available for several years in the UK via
a distributor, now the UK's own team
is ready to assist in the uptake of the
new Insulet Omnipod DASH system.
This has been cleared as an Alternate
Controller Enabled (ACE) infusion pump
by American FDA. This allows Insulet to
market its insulin management system
(called the Omnipod DASH System) as
an integrated insulin pump (Omnipod
DASH ACE Pump), allowing it to be
a part of an interoperable automated
insulin delivery (AID) system, such as the
company's Omnipod Horizon Automated
Insulin Delivery System.
The Omnipod DASH System has
shown that it meets the FDA-established
special controls that outline requirements
for assuring the accuracy, reliability,
cybersecurity and clinical relevance of
ACE pumps. The clearance means that
the pump is able to reliably and securely
communicate with compatible, digitally
connected devices - including automated
insulin dosing software ¬- and to receive,
execute, and confirm commands from
these devices. Shacey Petrovic, Insulet's
President and Chief Executive Officer,
comments, "Omnipod DASH was
designed with interoperability in mind,
and we're thrilled to provide people with
diabetes the choice and flexibility to
manage it on their own terms."
Insulet's Omnipod DASH System
was designed to serve as the foundation
for the company's future innovation and
with user discretion and convenience in
mind. Omnipod DASH is a continuous
insulin delivery system consisting of a
tubeless, waterproof*, Bluetooth wireless
technology Pod (pump) that holds up to
200 units of U-100 insulin and a modern,
colour, touch-screen Personal Diabetes
Manager (PDM) that controls the Pod. The
system includes a suite of optional mobile
apps for users, caregivers and HCPs to
help simplify diabetes management.