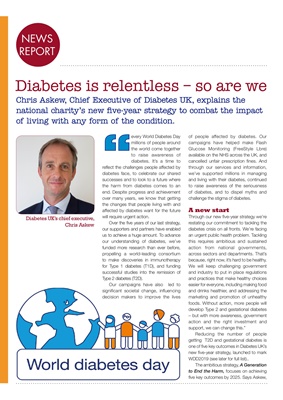 NEWS
Diabetes is relentless - so are we
of people affected by diabetes. Our
campaigns have helped make Flash
Glucose Monitoring (FreeStyle Lbre)
available on the NHS across the UK, and
cancelled unfair prescription fines. And
through our services and information,
we've supported millions in managing
and living with their diabetes, continued
to raise awareness of the seriousness
of diabetes, and to dispel myths and
challenge the stigma of diabetes.
A new start
Through our new five-year strategy we're
restating our commitment to tackling the
diabetes crisis on all fronts. We're facing
an urgent public health problem. Tackling
this requires ambitious and sustained
action from national governments,
across sectors and departments. That's
because, right now, it's hard to be healthy.
We will keep challenging government
and industry to put in place regulations
and practices that make healthy choices
easier for everyone, including making food
and drinks healthier, and addressing the
marketing and promotion of unhealthy
foods. Without action, more people will
develop Type 2 and gestational diabetes
- but with more awareness, government
action and the right investment and
support, we can change this."
Reducing the number of people
getting T2D and gestational diabetes is
one of five key outcomes in Diabetes UK's
new five-year strategy, launched to mark
WDD2019 (see later for full list)..
The ambitious strategy, A Generation
to End the Harm, focuses on achieving
five key outcomes by 2025. Says Askew,
Diabetes UK's chief executive,
Chris Askew
Chris Askew, Chief Executive of Diabetes UK, explains the
national charity's new five-year strategy to combat the impact
of living with any form of the condition.
"
every World Diabetes Day
millions of people around
the world come together
to raise awareness of
diabetes. It's a time to
reflect the challenges people affected by
diabetes face, to celebrate our shared
successes and to look to a future where
the harm from diabetes comes to an
end. Despite progress and achievement
over many years, we know that getting
the changes that people living with and
affected by diabetes want for the future
will require urgent action.
Over the five years of our last strategy,
our supporters and partners have enabled
us to achieve a huge amount. To advance
our understanding of diabetes, we've
funded more research than ever before,
propelling a world-leading consortium
to make discoveries in immunotherapy
for Type 1 diabetes (T1D), and funding
successful studies into the remission of
Type 2 diabetes (T2D).
Our campaigns have also led to
significant societal change, influencing
decision makers to improve the lives