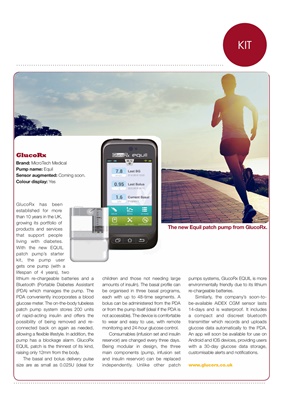 KIT
Brand: MicroTech Medical
Pump name: Equil
Sensor augmented: Not at present, but
CGM to come soon.
Colour display: Yes
Careline:
GlucoRx has been established for over
10 years in the UK, growing its portfolio
of products and services that support
people living with diabetes. With the
new EQUIL patch pump's starter kit, the
pump user gets one pump (with a lifespan
of 4 years), two lithium re-chargeable
batteries and a Bluetooth (Portable
Diabetes Assistant (PDA) which manages
the pump. The PDA conveniently
GlucoRx
incorporates a blood glucose meter.
The on-the-body tubeless patch pump
system stores 200 units of rapid-acting
insulin and offers the possibility of being
removed and re-connected back on again
as needed, allowing a flexible lifestyle. In
addition, the pump has a blockage alarm.
GlucoRx EQUIL patch is the thinnest of
its kind, raising only 12mm from the body.
The basal and bolus delivery pulse
size are as small as 0.025U (ideal for
children and those not needing large
amounts of insulin). The basal profile can
be organised in three basal programs,
each with up to 48-time segments. A
bolus can be administered from the PDA
or from the pump itself (ideal if the PDA is
not accessible). The device is comfortable
to wear and easy to use, with remote
monitoring and 24-hour glucose control.
Consumables (infusion set and insulin
reservoir) are changed every three days.
Being modular in design, the three
main components (pump, infusion set
and insulin reservoir) can be replaced
independently. Unlike other patch
pumps systems, GlucoRx EQUIL is more
environmentally friendly due to its lithium
re-chargeable batteries.
Similarly, the company's soon-tobe-available AiDEX CGM sensor lasts
14-days and is waterproof. It includes
a compact and discreet bluetooth
transmitter which records and uploads
glucose data automatically to the PDA.
An app will soon be available for use on
Android and IOS devices, providing users
with a 30-day glucose data storage,
customisable alerts and notifications.