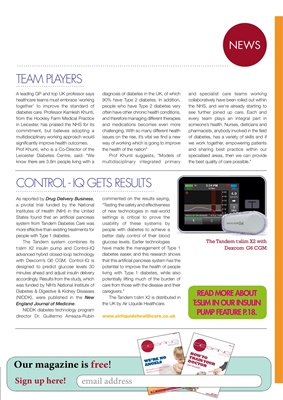 NEWS
A leading GP and top UK professor says
healthcare teams must embrace 'working
together' to improve the standard of
diabetes care. Professor Kamlesh Khunti,
from the Hockley Farm Medical Practice
in Leicester, has praised the NHS for its
commitment, but believes adopting a
multidisciplinary working approach would
significantly improve health outcomes.
Prof Khunti, who is a Co-Director of the
Leicester Diabetes Centre, said: "We
know there are 3.8m people living with a
diagnosis of diabetes in the UK, of which
90% have Type 2 diabetes. In addition,
people who have Type 2 diabetes very
often have other chronic health conditions,
and therefore managing different therapies
and medications becomes even more
challenging. With so many different health
issues on the rise, it's vital we find a new
way of working which is going to improve
the health of the nation"
Prof Khunti suggests, "Models of
multidisciplinary integrated primary and specialist care teams working
collaboratively have been rolled out within
the NHS, and we're already starting to
see further joined up care. Each and
every team plays an integral part in
someone's health. Nurses, dieticians and
pharmacists, anybody involved in the field
of diabetes, has a variety of skills and if
we work together, empowering patients
and sharing best practice within our
specialised areas, then we can provide
the best quality of care possible."
TEAM PLAYERS
CONTROL-IQ GETS RESULTS
As reported by Drug Delivery Business,
a pivotal trial funded by the National
Institutes of Health (NIH) in the United
States found that an artificial pancreas
system from Tandem Diabetes Care was
more effective than existing treatments for
people with Type 1 diabetes.
The Tandem system combines its
t:slim X2 insulin pump and Control-IQ
advanced hybrid closed-loop technology
with Dexcom's G6 CGM. Control-IQ is
designed to predict glucose levels 30
minutes ahead and adjust insulin delivery
accordingly. Results from the study, which
was funded by NIH's National Institute of
Diabetes & Digestive & Kidney Diseases
(NIDDK), were published in the New
England Journal of Medicine.
NIDDK diabetes technology
program director Dr. Guillermo
Arreaza-Rubín commented on
the results saying, "Testing the
safety and effectiveness of new
technologies in real-world settings
is critical to prove the usability of
these systems by people with diabetes
to achieve a better daily control of their
blood glucose levels. Earlier technologies
have made the management of Type 1
diabetes easier, and this research shows
that this artificial pancreas system has the
potential to improve the health of people
living with Type 1 diabetes, while also
potentially lifting much of the burden of
care from those with the disease and their
caregivers."
The Tandem t:slim X2 is distributed in
the UK by Air LIquide Healthcare.
www.airliquidehealthcare.co.uk
READ MORE ABOUT T:SLIM IN OUR INSULIN PUMP FEATURE ON P. 18 & ON P. 30.
ISSUE 30
MAGAZINE
DESANG
PLUS • New Products • Groovy giveaways • News (for T1 and T2)
WE'RE NO
ANGELS
But business as usual is best for
diabetics at Christmas
MAKING
CARBS COUNT:
CHESTNUTS ROASTING
ON OPEN FIRES
Our magazine is free!
Sign up here! email address
The Tandem t:slim with Dexcom
G6 CGM combination creates
Control-iQ