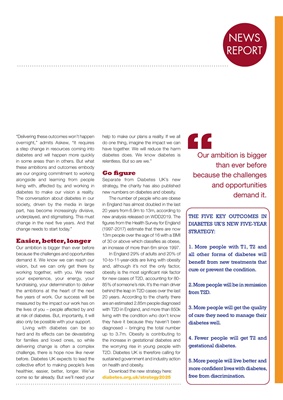 NEWS
THE FIVE KEY OUTCOMES IN
DIABETES UK'S NEW FIVE-YEAR
STRATEGY:
1. More people with T1, T2 and
all other forms of diabetes will
benefit from new treatments that
cure or prevent the condition.
2. More people will be in remission
from T2D.
3. More people will get the quality
of care they need to manage their
diabetes well.
4. Fewer people will get T2 and
gestational diabetes.
5. More people will live better and
more confident lives with diabetes,
free from discrimination.
Our ambition is bigger
than ever before
because the challenges
and opportunities
demand it.
"
"Delivering these outcomes won't happen
overnight," admits Askew, "It requires
a step change in resources coming into
diabetes and will happen more quickly
in some areas than in others. But what
these ambitions and outcomes embody
are our ongoing commitment to working
alongside and learning from people
living with, affected by, and working in
diabetes to make our vision a reality.
The conversation about diabetes in our
society, driven by the media in large
part, has become increasingly divisive,
underplayed, and stigmatising. This must
change in the next five years. And that
change needs to start today."
Easier, better, longer
Our ambition is bigger than ever before
because the challenges and opportunities
demand it. We know we can reach our
vision, but we can only get there by
working together, with you. We need
your experience, your energy, your
fundraising, your determination to deliver
the ambitions at the heart of the next
five years of work. Our success will be
measured by the impact our work has on
the lives of you - people affected by and
at risk of diabetes. But, importantly, it will
also only be possible with your support.
Living with diabetes can be so
hard and its effects can be devastating
for families and loved ones, so while
delivering change is often a complex
challenge, there is hope now like never
before. Diabetes UK expects to lead the
collective effort to making people's lives
healthier, easier, better, longer. We've
come so far already. But we'll need your
help to make our plans a reality. If we all
do one thing, imagine the impact we can
have together. We will reduce the harm
diabetes does. We know diabetes is
relentless. But so are we."
Go figure
Separate from Diabetes UK's new
strategy, the charity has also published
new numbers on diabetes and obesity.
The number of people who are obese
in England has almost doubled in the last
20 years from 6.9m to 13m, according to
new analysis released on WDD2019. The
figures from the Health Survey for England
(1997-2017) estimate that there are now
13m people over the age of 16 with a BMI
of 30 or above which classifies as obese,
an increase of more than 6m since 1997.
In England 29% of adults and 20% of
10-to-11-year-olds are living with obesity
and, although it's not the only factor,
obesity is the most significant risk factor
for new cases of T2D, accounting for 80-
85% of someone's risk. It's the main driver
behind the leap in T2D cases over the last
20 years. According to the charity there
are an estimated 2.85m people diagnosed
with T2D in England, and more than 850k
living with the condition who don't know
they have it because they haven't been
diagnosed − bringing the total number
up to 3.7m. Obesity is contributing to
the increase in gestational diabetes and
the worrying rise in young people with
T2D. Diabetes UK is therefore calling for
sustained government and industry action
on health and obesity.
Download the new strategy here:
diabetes.org.uk/strategy2025