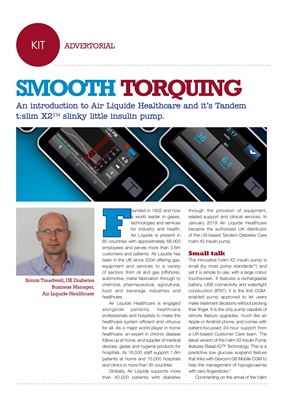 KIT
SMOOTH TORQUING
An introduction to Air Liquide Healthcare and it's Tandem
t:slim X2™ slinky little insulin pump.
F
ounded in 1902 and now
a world leader in gases,
technologies and services
for industry and health,
Air Liquide is present in
80 countries with approximately 66,000
employees and serves more than 3.6m
customers and patients. Air Liquide has
been in the UK since 2004 offering gas,
equipment and services to a variety
of sectors: from oil and gas (offshore),
automotive, metal fabrication through to
chemical, pharmaceutical, agricultural,
food and beverage industries and
healthcare.
Air Liquide Healthcare is engaged
alongside patients, healthcare
professionals and hospitals to make the
healthcare system efficient and virtuous
for all. As a major world player in home
healthcare, an expert in chronic disease
follow up at home, and supplier of medical
devices, gases and hygiene products for
hospitals, its 16,500 staff support 1.6m
patients at home and 15,000 hospitals
and clinics in more than 35 countries.
Globally, Air Liquide supports more
than 40,000 patients with diabetes
through the provision of equipment,
related support and clinical services. In
January 2019 Air Liquide Healthcare
became the authorised UK distributor
of the US-based Tandem Diabetes Care
t:slim X2 insulin pump.
Small talk
The innovative t:slim X2 insulin pump is
small (by most pump standards**) and
yet it is simple to use, with a large colour
touchscreen. It features a rechargeable
battery, USB connectivity and watertight
construction (IPX7). It is the first CGMenabled pump approved
to let users
make treatment decisions without pricking
their finger. It is the only pump capable of
remote feature upgrades, much like an
Apple or Android phone, and comes with
patient-focussed 24-hour support from
a UK-based Customer Care team. The
latest version of the t:slim X2 Insulin Pump
features Basal-IQ™ Technology. This is a
predictive low glucose suspend feature
that links with Dexcom G6 Mobile CGM to
help the management of hypoglycaemia
with zero fingersticks.*
Commenting on the arrival of the t:slim
Simon Treadwell, UK Diabetes
Business Manager for Air Liquide
Healthcare
ADVERTORIAL