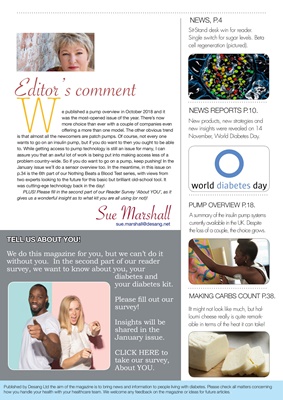 Published by Desang Ltd the aim of the magazine is to bring news and information to people living with diabetes. Please check all matters concerning
how you handle your health with your healthcare team. We welcome any feedback on the magazine or ideas for future articles..
Sue Marshall
Ioften get the chance to attend even
PLUS, I have a small ask: would you be so kind as to fill in our Reader
Survey "About US"? Tell us what you want! Should take 5 mins and
there's even some prizes this time around!
Editor's comment
A sum
INPUT FUSION P.16.
We do this magazine for you, but we can't do it
without you. In the second part of our reader
survey, we want to know about you, your
diabetes and
your diabetes kit.
Please fill out our
survey!
Insights will be
shared in the
January issue.
CLICK HERE to
take our survey,
About YOU.
NEWS, P.4
Snac.
Good.
FOOD NEWS P.14.
FOOD REPORT, P.34.
TELL US ABOUT YOU!