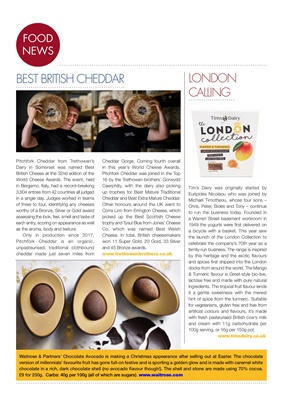 LIVINGLIVING
FOOD
NEWS
Waitrose & Partners' Chocolate Avocado is making a Christmas appearance after selling out at Easter. The chocolate
version of millennials' favourite fruit has gone full-on festive and is sporting a golden glow and is made with caramel white
chocolate in a rich, dark chocolate shell (no avocado flavour though!). The shell and stone are made using 70% cocoa.
£9 for 250g. Carbs: 40g per 100g (all of which are sugars). www.waitrose.com LONDON
CALLING
Tim's Dairy was originally started by
Euripides Nicolaou who was joined by
Michael Timotheou, whose four sons -
Chris, Peter, Bides and Tony - continue
to run the business today. Founded in
a Warren Street basement workroom in
1949 the yogurts were first delivered on
a bicycle with a basket. This year saw
the launch of the London Collection to
celebrate the company's 70th year as a
family-run business. The range is inspired
by this heritage and the exotic flavours
and spices first shipped into the London
docks from around the world. The Mango
& Turmeric flavour is Greet-style bio-live,
lactose free and made with pure natural
ingredients. The tropical fruit flavour lends
it a gentle sweetness with the merest
hint of spice from the turmeric. Suitable
for vegetarians, gluten free and free from
artificial colours and flavours, it's made
with fresh pasteurised British cow's milk
and cream with 11g carbohydrate per
100g serving, or 16g per 150g pot.
BEST BRITISH CHEDDAR
Pitchfork Cheddar from Trethowan's
Dairy in Somerset was named Best
British Cheese at the 32nd edition of the
World Cheese Awards. The event, held
in Bergamo, Italy, had a record-breaking
3,804 entries from 42 countries all judged
in a single day. Judges worked in teams
of three to four, identifying any cheeses
worthy of a Bronze, Silver or Gold award
assessing the look, feel, smell and taste of
each entry, scoring on appearance as well
as the aroma, body and texture.
Only in production since 2017,
Pitchfork Cheddar is an organic,
unpasteurised, traditional clothbound
cheddar made just seven miles from
Cheddar Gorge. Coming fourth overall
in this year's World Cheese Awards,
Pitchfork Cheddar was joined in the Top
16 by the Trethowan brothers' Gorwydd
Caerphilly, with the dairy also picking
up trophies for Best Mature Traditional
Cheddar and Best Extra Mature Cheddar.
Other honours around the UK went to
Corra Linn from Errington Cheese, which
picked up the Best Scottish Cheese
trophy and Tysul Blue from Jones' Cheese
Co, which was named Best Welsh
Cheese. In total, British cheesemakers
won 11 Super Gold, 20 Gold, 33 Silver
and 45 Bronze awards.