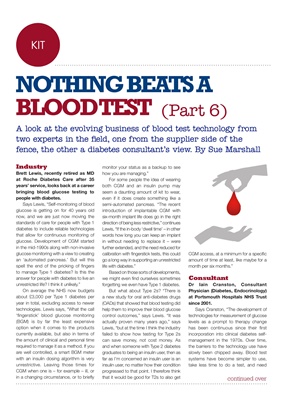 KIT
NOTHING BEATS A
BLOOD TEST
A look at the evolving business of blood test technology from
two experts in the field, one from the supplier side of the
fence, the other a diabetes consultant's view. By Sue Marshall
continued over
(Part 6)
Industry
Brett Lewis, recently retired as MD
at Roche Diabetes Care after 35
years' service, looks back at a career
bringing blood glucose testing to
people with diabetes.
Says Lewis, "Self-monitoring of blood
glucose is getting on for 40 years old
now, and we are just now moving the
standards of care for people with Type 1
diabetes to include reliable technologies
that allow for continuous monitoring of
glucose. Development of CGM started
in the mid-1990s along with non-invasive
glucose monitoring with a view to creating
an 'automated pancreas.' But will this
spell the end of the pricking of fingers
to manage Type 1 diabetes? Is this the
answer for people with diabetes to live an
unrestricted life? I think it unlikely."
On average the NHS now budgets
about £3,000 per Type 1 diabetes per
year in total, excluding access to newer
technologies. Lewis says, "What the call
'fingerstick' blood glucose monitoring
(BGM) is by far the least expensive
option when it comes to the products
currently available, but also in terms of
the amount of clinical and personal time
required to manage it as a method. If you
are well controlled, a smart BGM meter
with an insulin dosing algorithm is very
unrestrictive. Leaving those times for
CGM when one is - for example - ill, or
in a changing circumstance, or to briefly
monitor your status as a backup to see
how you are managing."
For some people the idea of wearing
both CGM and an insulin pump may
seem a daunting amount of kit to wear,
even if it does create something like a
semi-automated pancreas. "The recent
introduction of implantable CGM with
six-month implant life does go in the right
direction of being less restrictive," continues
Lewis, "If the in-body 'dwell time' - in other
words how long you can keep an implant
in without needing to replace it - were
further extended, and the need reduced for
calibration with fingerstick tests, this could
go a long way in supporting an unrestricted
life with diabetes."
Based on those sorts of developments,
we might even find ourselves sometimes
forgetting we even have Type 1 diabetes.
But what about Type 2s? "There is
a new study for oral anti-diabetes drugs
(OADs) that showed that blood testing did
help them to improve their blood glucose
control outcomes," says Lewis. "It was
actually proven many years ago," says
Lewis, "but at the time I think the industry
failed to show how testing for Type 2s
can save money, not cost money. As
and when someone with Type 2 diabetes
graduates to being an insulin user, then as
far as I'm concerned an insulin user is an
insulin user, no matter how their condition
progressed to that point. I therefore think
that it would be good for T2s to also get
CGM access, at a minimum for a specific
amount of time at least, like maybe for a
month per six months."
Consultant
Dr Iain Cranston, Consultant
Physician (Diabetes, Endocrinology)
at Portsmouth Hospitals NHS Trust
since 2001.
Says Cranston, "The development of
technologies for measurement of glucose
levels as a prompt to therapy change
has been continuous since their first
incorporation into clinical diabetes selfmanagement in the 1970s. Over time,
the barriers to the technology use have
slowly been chipped away. Blood test
systems have become simpler to use,
take less time to do a test, and need