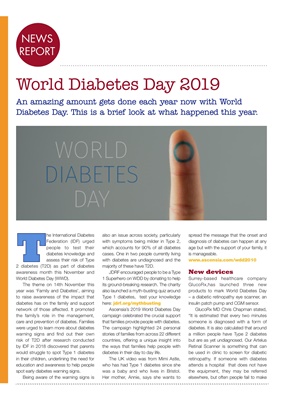 NEWS
NEWS
REPORT
An amazing amount gets done each year now with World
Diabetes Day. This is a brief look at what happened this year.
World Diabetes Day 2019
T
he International Diabetes
Federation (IDF) urged
people to test their
diabetes knowledge and
assess their risk of Type
2 diabetes (T2D) as part of diabetes
awareness month this November and
World Diabetes Day (WWD).
The theme on 14th November this
year was 'Family and Diabetes', aiming
to raise awareness of the impact that
diabetes has on the family and support
network of those affected. It promoted
the family's role in the management,
care and prevention of diabetes. Families
were urged to learn more about diabetes
warning signs and find out their own
risk of T2D after research conducted
by IDF in 2018 discovered that parents
would struggle to spot Type 1 diabetes
in their children, underlining the need for
education and awareness to help people
spot early diabetes warning signs.
Being aware of the warning signs is
spread the message that the onset and
diagnosis of diabetes can happen at any
age but with the support of your family, it
is manageable.
New devices
Surrey-based healthcare company
GlucoRx,has launched three new
products to mark World Diabetes Day
- a diabetic retinopathy eye scanner, an
insulin patch pump and CGM sensor.
GlucoRx MD Chris Chapman stated,
"It is estimated that every two minutes
someone is diagnosed with a form of
diabetes. It is also calculated that around
a million people have Type 2 diabetes
but are as yet undiagnosed. Our Artelus
Retinal Scanner is something that can
be used in clinic to screen for diabetic
retinopathy. If someone with diabetes
attends a hospital that does not have
the equipment, they may be referred
elsewhere, but often people fail to make
also an issue across society, particularly
with symptoms being milder in Type 2,
which accounts for 90% of all diabetes
cases. One in two people currently living
with diabetes are undiagnosed and the
majority of these have T2D.
JDRF encouraged people to be a Type
1 Superhero on WDD by donating to help
its ground-breaking research. The charity
also launched a myth-busting quiz around
Type 1 diabetes, test your knowledge
here: jdrf.org/mythbusting
Ascensia's 2019 World Diabetes Day
campaign celebrated the crucial support
that families provide people with diabetes.
The campaign highlighted 24 personal
stories of families from across 22 different
countries, offering a unique insight into
the ways that families help people with
diabetes in their day to day life.
The UK video was from Mimi Astle,
who has had Type 1 diabetes since she
was a baby and who lives in Bristol.
Her mother, Annie, says she wants to