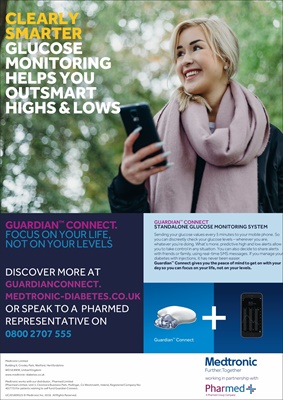 GUARDIAN™ CONNECT
STANDALONE GLUCOSE MONITORING SYSTEM
Sending your glucose values every 5 minutes to your mobile phone. So
you can discreetly check your glucose levels - wherever you are,
whatever you're doing. What's more, predictive high and low alerts allow
you to take control in any situation. You can also decide to share alerts
with friends or family, using real-time SMS messages. If you manage your
diabetes with injections, it has never been easier.
Guardian™ Connect gives you the peace of mind to get on with your
day so you can focus on your life, not on your levels.
Guardian™ Connect
working in partnership with
CLEARLY
SMARTER
GLUCOSE
MONITORING
HELPS YOU
OUTSMART
HIGHS & LOWS
GUARDIAN™ CONNECT.
FOCUS ON YOUR LIFE,
NOT ON YOUR LEVELS
DISCOVER MORE AT
GUARDIANCONNECT.
MEDTRONIC-DIABETES.CO.UK
OR SPEAK TO A PHARMED
REPRESENTATIVE ON
0800 2707 555
Medtronic Limited
Building 9, Croxley Park, Watford, Hertfordshire
WD18 8WW, United Kingdom
Medtronic works with our distributor, Pharmed Limited
(Pharmed Limited, Unit 3, Clonmore Business Park, Mullingar, Co Westmeath, Ireland, Registered Company No:
401775) for patients wishing to self fund Guardian Connect.
UC201809525 © Medtronic Inc. 2018. All Rights Reserved.