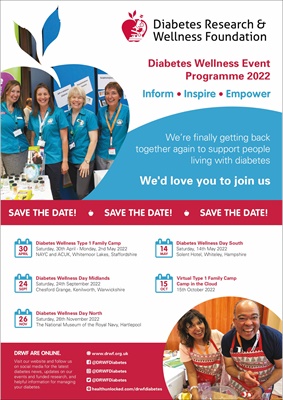 Diabetes Wellness Event
Programme 2022
Diabetes Research &
Wellness Foundation
Diabetes Research &
Wellness Foundation
Diabetes Research &
Wellness Foundation
Diabetes Research &
Wellness Foundation
Diabetes Research &
Wellness Foundation
We're finally getting back
together again to support people
living with diabetes
Inform Inspire Empower
We'd love you to join us
SAVE THE DATE! SAVE THE DATE! SAVE THE DATE!
Diabetes Wellness Day South
Saturday, 14th May 2022
Solent Hotel, Whiteley, Hampshire
14MAY
Diabetes Wellness Day North
Saturday, 26th November 2022
The National Museum of the Royal Navy, Hartlepool
26NOV
Virtual Type 1 Family Camp
Camp in the Cloud
15th October 2022
15OCT
Diabetes Wellness Day Midlands
Saturday, 24th September 2022
Chesford Grange, Kenilworth, Warwickshire
24SEPT
Diabetes Wellness Type 1 Family Camp
Saturday, 30th April - Monday, 2nd May 2022
NAYC and ACUK, Whitemoor Lakes, Staffordshire
30APRIL
@DRWFDiabetes
@DRWFDiabetes
@DRWFDiabetes
healthunlocked.com/drwfdiabetes
DRWF ARE ONLINE.
Visit our website and follow us
on social media for the latest
diabetes news, updates on our
events and funded research, and
helpful information for managing
your diabetes.