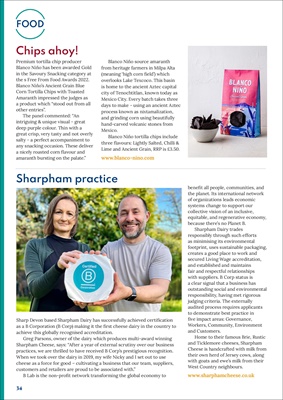 34
FOOD
Sharp Devon based Sharpham Dairy has successfully achieved certification
as a B Corporation (B Corp) making it the first cheese dairy in the country to
achieve this globally recognised accreditation.
Greg Parsons, owner of the dairy which produces multi-award winning
Sharpham Cheese, says: "After a year of external scrutiny over our business
practices, we are thrilled to have received B Corp's prestigious recognition.
When we took over the dairy in 2019, my wife Nicky and I set out to use
cheese as a force for good - cultivating a business that our team, suppliers,
customers and retailers are proud to be associated with."
B Lab is the non-profit network transforming the global economy to
Chips ahoy!
Premium tortilla chip producer
Blanco Niño has been awarded Gold
in the Savoury Snacking category at
the s Free From Food Awards 2022.
Blanco Niño's Ancient Grain Blue
Corn Tortilla Chips with Toasted
Amaranth impressed the judges as
a product which "stood out from all
other entries".
The panel commented: "An
intriguing & unique visual - great
deep purple colour. Thin with a
great crisp, very tasty and not overly
salty - a perfect accompaniment to
any snacking occasion. These deliver
a nicely roasted corn flavour and
amaranth bursting on the palate."
Blanco Niño source amaranth
from heritage farmers in Milpa Alta
(meaning 'high corn field') which
overlooks Lake Texcoco. This basin
is home to the ancient Aztec capital
city of Tenochtitlan, known today as
Mexico City. Every batch takes three
days to make - using an ancient Aztec
process known as nixtamalization,
and grinding corn using beautifully
hand-carved volcanic stones from
Mexico.
Blanco Niño tortilla chips include
three flavours: Lightly Salted, Chilli &
Lime and Ancient Grain, RRP is £3.50.
benefit all people, communities, and
the planet. Its international network
of organizations leads economic
systems change to support our
collective vision of an inclusive,
equitable, and regenerative economy,
because there's no Planet B.
Sharpham Dairy trades
responsibly through such efforts
as minimising its environmental
footprint, uses sustainable packaging,
creates a good place to work and
secured Living Wage accreditation,
and established and maintains
fair and respectful relationships
with suppliers. B Corp status is
a clear signal that a business has
outstanding social and environmental
responsibility, having met rigorous
judging criteria. The externally
audited process requires applicants
to demonstrate best practice in
five impact areas: Governance,
Workers, Community, Environment
and Customers.
Home to their famous Brie, Rustic
and Ticklemore cheeses, Sharpham
Cheese is handcrafted with milk from
their own herd of Jersey cows, along
with goats and ewe's milk from their
West Country neighbours.
Sharpham practice