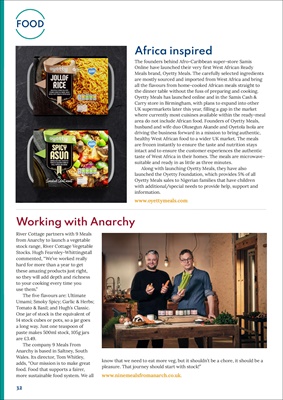 32
FOOD
Africa inspired
The founders behind Afro-Caribbean super-store Samis
Online have launched their very first West African Ready
Meals brand, Oyetty Meals. The carefully selected ingredients
are mostly sourced and imported from West Africa and bring
all the flavours from home-cooked African meals straight to
the dinner table without the fuss of preparing and cooking.
Oyetty Meals has launched online and in the Samis Cash &
Carry store in Birmingham, with plans to expand into other
UK supermarkets later this year, filling a gap in the market
where currently most cuisines available within the ready-meal
area do not include African food. Founders of Oyetty Meals,
husband and wife duo Olusegun Akande and Oyetola Isola are
driving the business forward in a mission to bring authentic,
healthy West African food to a wider UK market. The meals
are frozen instantly to ensure the taste and nutrition stays
intact and to ensure the customer experiences the authentic
taste of West Africa in their homes. The meals are microwavesuitable
and ready in as little as three minutes.
Along with launching Oyetty Meals, they have also
launched the Oyetty Foundation, which provides 5% of all
Oyetty Meals sales to Nigerian families that have children
with additional/special needs to provide help, support and
information.
Working with Anarchy
know that we need to eat more veg, but it shouldn't be a chore, it should be a
pleasure. That journey should start with stock!"
www.ninemealsfromanarch.co.uk.
River Cottage partners with 9 Meals
from Anarchy to launch a vegetable
stock range, River Cottage Vegetable
Stocks. Hugh Fearnley-Whittingstall
commented, "We've worked really
hard for more than a year to get
these amazing products just right,
so they will add depth and richness
to your cooking every time you
use them."
The five flavours are: Ultimate
Umami; Smoky Spicy; Garlic & Herbs;
Tomato & Basil; and Hugh's Classic.
One jar of stock is the equivalent of
14 stock cubes or pots, so a jar goes
a long way. Just one teaspoon of
paste makes 500ml stock, 105g jars
are £3.49.
The company 9 Meals From
Anarchy is based in Saltney, South
Wales. Its director, Tom Whitley,
adds, "Our mission is to make great
food. Food that supports a fairer,
more sustainable food system. We all