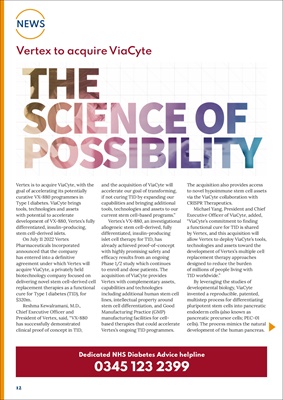 12
NEWS
Vertex to acquire ViaCyte
Dedicated NHS Diabetes Advice helpline
0345 123 2399
Vertex to acquire ViaCyte, with the
goal of accelerating its potentially
curative VX-880 programmes in
Type 1 diabetes. ViaCyte brings
tools, technologies and assets
with potential to accelerate
development of VX-880, Vertex's fully
differentiated, insulin-producing,
stem cell-derived islets.
On July 11 2022 Vertex
Pharmaceuticals Incorporated
announced that the company
has entered into a definitive
agreement under which Vertex will
acquire ViaCyte, a privately held
biotechnology company focused on
delivering novel stem cell-derived cell
replacement therapies as a functional
cure for Type 1 diabetes (T1D), for
$320m.
Reshma Kewalramani, M.D.,
Chief Executive Officer and
President of Vertex, said, "VX-880
has successfully demonstrated
clinical proof of concept in T1D,
and the acquisition of ViaCyte will
accelerate our goal of transforming,
if not curing T1D by expanding our
capabilities and bringing additional
tools, technologies and assets to our
current stem cell-based programs."
Vertex's VX-880, an investigational
allogeneic stem cell-derived, fully
differentiated, insulin-producing
islet cell therapy for T1D, has
already achieved proof-of-concept
with highly promising safety and
efficacy results from an ongoing
Phase 1/2 study which continues
to enroll and dose patients. The
acquisition of ViaCyte provides
Vertex with complementary assets,
capabilities and technologies
including additional human stem cell
lines, intellectual property around
stem cell differentiation, and Good
Manufacturing Practice (GMP)
manufacturing facilities for cellbased
therapies that could accelerate
Vertex's ongoing T1D programmes.
The acquisition also provides access
to novel hypoimmune stem cell assets
via the ViaCyte collaboration with
CRISPR Therapeutics.
Michael Yang, President and Chief
Executive Officer of ViaCyte, added,
"ViaCyte's commitment to finding
a functional cure for T1D is shared
by Vertex, and this acquisition will
allow Vertex to deploy ViaCyte's tools,
technologies and assets toward the
development of Vertex's multiple cell
replacement therapy approaches
designed to reduce the burden
of millions of people living with
T1D worldwide."
By leveraging the studies of
developmental biology, ViaCyte
invented a reproducible, patented,
multistep process for differentiating
pluripotent stem cells into pancreatic
endoderm cells (also known as
pancreatic precursor cells; PEC-01
cells). The process mimics the natural
development of the human pancreas.