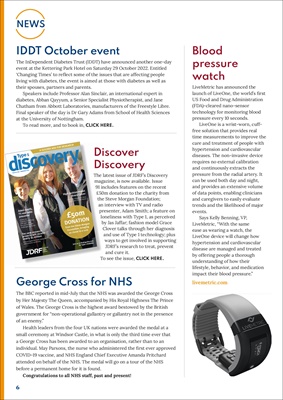 6
NEWS
IDDT October event
The InDependent Diabetes Trust (IDDT) have announced another one-day
event at the Kettering Park Hotel on Saturday 29 October 2022. Entitled
'Changing Times' to reflect some of the issues that are affecting people
living with diabetes, the event is aimed at those with diabetes as well as
their spouses, partners and parents.
Speakers include Professor Alan Sinclair, an international expert in
diabetes, Abban Qayyum, a Senior Specialist Physiotherapist, and Jane
Chatham from Abbott Laboratories, manufacturers of the Freestyle Libre.
Final speaker of the day is Dr Gary Adams from School of Health Sciences
at the University of Nottingham.
To read more, and to book in, CLICK HERE.
Discover
Discovery
The latest issue of JDRF's Discovery
magazine, is now available. Issue
91 includes features on the recent
£50m donation to the charity from
the Steve Morgan Foundation;
an interview with TV and radio
presenter, Adam Smith; a feature on
loneliness with Type 1, as perceived
by Jas Jaffar; fashion model Grace
Clover talks through her diagnosis
and use of Type 1 technology; plus
ways to get involved in supporting
JDRF's research to treat, prevent
and cure it.
To see the issue, CLICK HERE.
Blood
pressure
watch
LiveMetric has announced the
launch of LiveOne, the world's first
US Food and Drug Administration
(FDA)-cleared nano-sensor
technology for monitoring blood
pressure every 10 seconds.
LiveOne is a wrist-worn, cufffree
solution that provides real
time measurements to improve the
care and treatment of people with
hypertension and cardiovascular
diseases. The non-invasive device
requires no external calibration
and continuously extracts the
pressure from the radial artery. It
can be used both day and night,
and provides an extensive volume
of data points, enabling clinicians
and caregivers to easily evaluate
trends and the likelihood of major
events.
Says Kelly Benning, VP,
LiveMetric, "With the same
ease as wearing a watch, the
LiveOne device will change how
hypertension and cardiovascular
disease are managed and treated
by offering people a thorough
understanding of how their
lifestyle, behavior, and medication
impact their blood pressure."
livemetric.com
George Cross for NHS
The BBC reported in mid-July that the NHS was awarded the George Cross
by Her Majesty The Queen, accompanied by His Royal Highness The Prince
of Wales. The George Cross is the highest award bestowed by the British
government for "non-operational gallantry or gallantry not in the presence
of an enemy."
Health leaders from the four UK nations were awarded the medal at a
small ceremony at Windsor Castle, in what is only the third time ever that
a George Cross has been awarded to an organisation, rather than to an
individual. May Parsons, the nurse who administered the first ever approved
COVID-19 vaccine, and NHS England Chief Executive Amanda Pritchard
attended on behalf of the NHS. The medal will go on a tour of the NHS
before a permanent home for it is found.
Congratulations to all NHS staff, past and present!