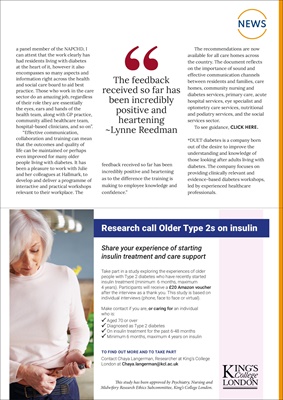 17
NEWS
can attest that the work clearly has
had residents living with diabetes
at the heart of it, however it also
encompasses so many aspects and
information right across the health
and social care board to aid best
practice. Those who work in the care
sector do an amazing job, regardless
of their role they are essentially
the eyes, ears and hands of the
health team, along with GP practice,
community allied healthcare team,
hospital-based clinicians, and so on".
"Effective communication,
collaboration and training can mean
that the outcomes and quality of
life can be maintained or perhaps
even improved for many older
people living with diabetes. It has
been a pleasure to work with Julie
and her colleagues at Hallmark, to
develop and deliver a programme of
interactive and practical workshops
relevant to their workplace. The
feedback received so far has been
incredibly positive and heartening
as to the difference the training is
making to employee knowledge and
confidence."
The recommendations are now
available for all care homes across
the country. The document reflects
on the importance of sound and
effective communication channels
between residents and families, care
homes, community nursing and
diabetes services, primary care, acute
hospital services, eye specialist and
optometry care services, nutritional
and podiatry services, and the social
services sector.
To see guidance, CLICK HERE.
*DUET diabetes is a company born
out of the desire to improve the
understanding and knowledge of
those looking after adults living with
diabetes. The company focuses on
providing clinically relevant and
evidence-based diabetes workshops,
led by experienced healthcare
professionals.
The feedback
received so far has
been incredibly
positive and
heartening
~Lynne Reedman