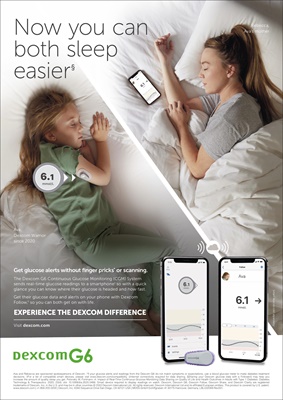 Now you can
both sleep
easier§
Ava and Rebecca are sponsored spokespersons of Dexcom. *If your glucose alerts and readings from the Dexcom G6 do not match symptoms or expectations, use a blood glucose meter to make diabetes treatment
decisions. †For a list of compatible smart devices, please visit www.dexcom.com/compatibility. ‡Internet connectivity required for data sharing. §Sharing your Dexcom glucose data with a Follower‡ may help you
increase the amount of quality sleep you get. Polonsky W, Fortmann, A. Impact of Real-Time Continuous Glucose Monitoring Data Sharing on Quality of Life and Health Outcomes in Adults with Type 1 Diabetes. Diabetes
Technology & Therapeutics. 2020; 23(4). doi: 10.1089/dia.2020.0466. Smart device required to display readings on watch. Dexcom, Dexcom G6, Dexcom Follow, Dexcom Share, and Dexcom Clarity are registered
trademarks of Dexcom, Inc. in the U.S. and may be in other countries.© 2022 Dexcom International Ltd. All rights reserved. Dexcom International Ltd and its affiliated European entities. This product is covered by U.S. patent.
www.dexcom.com | +1.858.200.0200 | Dexcom, Inc. 6340 Sequence Drive San Diego, CA 92121 USA | MDSS GmbH Schiffgraben 41 30175 Hannover, Germany. LBL022068 Rev001.
Get glucose alerts without finger pricks* or scanning.
The Dexcom G6 Continuous Glucose Monitoring (CGM) System
sends real-time glucose readings to a smartphone† so with a quick
glance you can know where their glucose is headed and how fast.
Get their glucose data and alerts on your phone with Dexcom
Follow,‡ so you can both get on with life.
EXPERIENCE THE DEXCOM DIFFERENCE
Visit dexcom.com
mmol/L
Smart devices sold separately. †
Rebecca,
Ava's mother
Ava,
Dexcom Warrior
since 2020