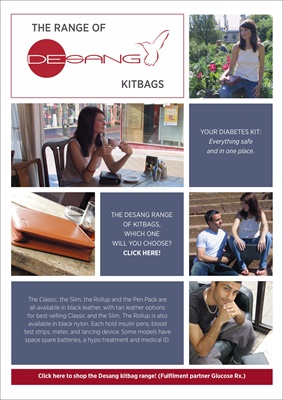 YOUR DIABETES KIT:
Everything safe
and in one place.
THE DESANG RANGE
OF KITBAGS,
WHICH ONE
WILL YOU CHOOSE?
CLICK HERE!
The Classic, the Slim, the Rollup and the Pen Pack are
all available in black leather, with tan leather options
for best-selling Classic and the Slim. The Rollup is also
available in black nylon. Each hold insulin pens, blood
test strips, meter, and lancing device. Some models have
space spare batteries, a hypo treatment and medical ID.
THE RANGE OF
KITBAGS
Click here to shop the Desang kitbag range! (Fulfilment partner Glucose Rx.)