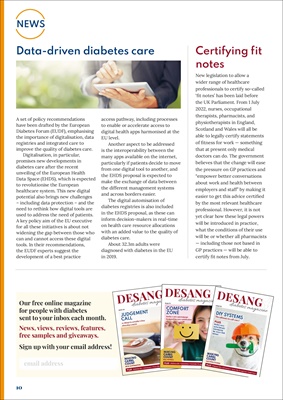 10
NEWS
Data-driven diabetes care Certifying fit
notes
New legislation to allow a
wider range of healthcare
professionals to certify so-called
'fit notes' has been laid before
the UK Parliament. From 1 July
2022, nurses, occupational
therapists, pharmacists, and
physiotherapists in England,
Scotland and Wales will all be
able to legally certify statements
of fitness for work - something
that at present only medical
doctors can do. The government
believes that the change will ease
the pressure on GP practices and
"empower better conversations
about work and health between
employers and staff" by making it
easier to get this advice certified
by the most relevant healthcare
professional. However, it is not
yet clear how these legal powers
will be introduced in practice,
what the conditions of their use
will be or whether all pharmacists
- including those not based in
GP practices - will be able to
certify fit notes from July.
Our free online magazine
for people with diabetes
sent to your inbox each month.
News, views, reviews, features,
free samples and giveaways.
Sign up with your email address!
ISSUE 115
MAKING
CARBS
COUNT
MILK ALTERNATIVES
PLUS Diabetes kit • Giveaways • News (for T1 and T2) • Food News
JUDGEMENT
CALL
10 things to consider when
choosing a meter
PLUS
Who's Zooming who?
An update on digital
health delivery
ISSUE 111
MAKING
CARBS
COUNT
BELL PEPPERS
PLUS Diabetes kit • Giveaways • News (for T1 and T2) • Food News
COMFORT
ZONE
Roche's new micropump:
designed for user satisfaction
PLUS
Dexcom's next
generation G7 sensor ISSUE 119
MAKING
CARBS
COUNT
LUSCIOUS LYCHEES
PLUS Diabetes kit • Giveaways • News (for T1 and T2) • Food News
DIY SYSTEMS
The ultimate in self-care?
PLUS
Roche's new
meter launch:
introducing
the Accu-Chek
Instant
email address
A set of policy recommendations
have been drafted by the European
Diabetes Forum (EUDF), emphasising
the importance of digitalisation, data
registries and integrated care to
improve the quality of diabetes care.
Digitalisation, in particular,
promises new developments in
diabetes care after the recent
unveiling of the European Health
Data Space (EHDS), which is expected
to revolutionise the European
healthcare system. This new digital
potential also brings new challenges
- including data protection - and the
need to rethink how digital tools are
used to address the need of patients.
A key policy aim of the EU executive
for all these initiatives is about not
widening the gap between those who
can and cannot access these digital
tools. In their recommendations,
the EUDF experts suggest the
development of a best practice
access pathway, including processes
to enable or accelerate access to
digital health apps harmonised at the
EU level.
Another aspect to be addressed
is the interoperability between the
many apps available on the internet,
particularly if patients decide to move
from one digital tool to another, and
the EHDS proposal is expected to
make the exchange of data between
the different management systems
and across borders easier.
The digital automisation of
diabetes registries is also included
in the EHDS proposal, as these can
inform decision-makers in real-time
on health care resource allocations
with an added value to the quality of
diabetes care.
About 32.3m adults were
diagnosed with diabetes in the EU
in 2019.