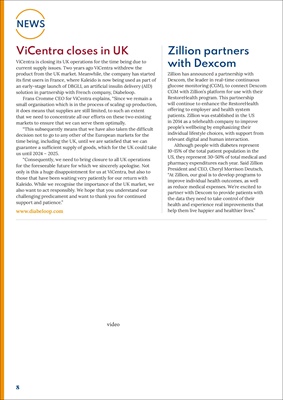 8
NEWS
ViCentra closes in UK
ViCentra is closing its UK operations for the time being due to
current supply issues. Two years ago ViCentra withdrew the
product from the UK market. Meanwhile, the company has started
its first users in France, where Kaleido is now being used as part of
an early-stage launch of DBGL1, an artificial insulin delivery (AID)
solution in partnership with French company, Diabeloop.
Frans Cromme CEO for ViCentra explains, "Since we remain a
small organisation which is in the process of scaling up production,
it does means that supplies are still limited, to such an extent
that we need to concentrate all our efforts on these two existing
markets to ensure that we can serve them optimally.
"This subsequently means that we have also taken the difficult
decision not to go to any other of the European markets for the
time being, including the UK, until we are satisfied that we can
guarantee a sufficient supply of goods, which for the UK could take
us until 2024 - 2025.
"Consequently, we need to bring closure to all UK operations
for the foreseeable future for which we sincerely apologise. Not
only is this a huge disappointment for us at ViCentra, but also to
those that have been waiting very patiently for our return with
Kaleido. While we recognise the importance of the UK market, we
also want to act responsibly. We hope that you understand our
challenging predicament and want to thank you for continued
support and patience."
Zillion partners
with Dexcom
Zillion has announced a partnership with
Dexcom, the leader in real-time continuous
glucose monitoring (CGM), to connect Dexcom
CGM with Zillion's platform for use with their
RestoreHealth program. This partnership
will continue to enhance the RestoreHealth
offering to employer and health system
patients. Zillion was established in the US
in 2014 as a telehealth company to improve
people's wellbeing by emphasizing their
individual lifestyle choices, with support from
relevant digital and human interaction.
Although people with diabetes represent
10-15% of the total patient population in the
US, they represent 30-50% of total medical and
pharmacy expenditures each year. Said Zillion
President and CEO, Cheryl Morrison Deutsch,
"At Zillion, our goal is to develop programs to
improve individual health outcomes, as well
as reduce medical expenses. We're excited to
partner with Dexcom to provide patients with
the data they need to take control of their
health and experience real improvements that
help them live happier and healthier lives."
video