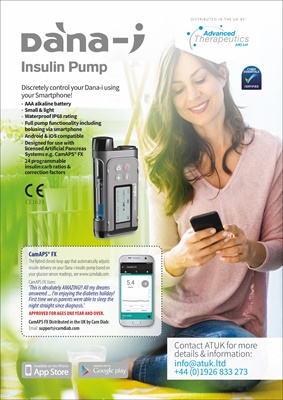 Insulin Pump
DISTRIBUTED IN THE UK BY:
CamAPS® FX
The hybrid closed-loop app that automatically adjusts
insulin delivery on your Dana-i insulin pump based on
your glucose sensor readings, see www.camdiab.com
CamAPS FX Users:
'This is absolutely AMAZING!! All my dreams
answered ... I'm enjoying the diabetes holiday!
First time we as parents were able to sleep the
night straight since diagnosis.'
APPROVED FOR AGES support@camdiab.com/p>
CamAPS FX Distributed in the UK by Cam Diab:
Email: support@camdiab.com
Discretely control your Dana-i using
your Smartphone!
• AAA alkaline battery
• Small & light
• Waterproof IP68 rating
• Full pump functionality including
bolusing via smartphone
• Android & iOS compatible
• Designed for use with
licensed Artificial Pancreas
Systems e.g. CamAPS® FX
• 24 programmable
insulin:carb ratios &
correction factoinfo@atuk.ltd39
Contact ATUK for more
details & information:
info@atuk.ltd
+44 (0)1926 833 273