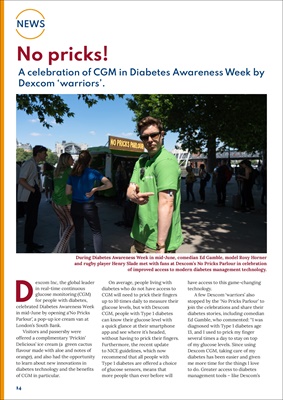 14
NEWS
Perfect storm
Diabetes UK warns of a 'perfect storm' for children at
risk from T2 diabetes.
Dual crises of soaring obesity rates and a rising
cost-of-living are creating a perfect storm
putting the health of children at risk, according
to analysis from Diabetes UK.
The charity has revealed that there has been a more
than 50% increase in children registered with Type 2
diabetes receiving treatment in paediatric diabetes units
in England and Wales in the last five years. Data released
earlier this year also revealed the biggest increase in
childhood obesity since records began in 2006.
These figures confirm a growing trend of serious
health conditions related to obesity that are becoming
more prevalent in a younger demographic than ever
before. Diabetes UK warns that the trend is of particular
concern now that the Government has put key plans on
hold regarding its childhood obesity commitments.
Data shows that the impact of type 2 diabetes is being
disproportionately felt by children living in the most
deprived areas across England and Wales. 4 in 10 children
and young people living with type 2 diabetes are from the
most deprived areas, compared to only 1 in 19 from the
least deprived areas '
Type 2 diabetes is known to have more severe and
acute consequences in children, and without the right
treatment and support, can lead to serious complications.
In response to the figures, Diabetes UK is urging the
UK Government not to abandon their commitments to
child health. Specifically, the charity is calling on the
Government to:
• Urgently reverse its decision to delay restrictions to
junk food marketing and unhealthy food promotions,
• To go much further to meet its goal of halving
childhood obesity by 2030
• To do more to address long-standing health disparities,
including outlining steps in the forthcoming Health
Disparities White Paper.
New recruit
This June, Diabetes UK welcomed James Beeby
as the charity's new Director of Engagement and
Fundraising to lead a 130-strong department of
marketing, communications, business support, digital
and fundraising professionals, James will be part of the
charity's executive team of directors.
With 19 years' experience in the charity sector, Beeby
joins Diabetes UK from Terrence Higgins Trust, where
he led on organisational strategy development and
reinvigorating the fundraising programme. Before that,
at Prostate Cancer UK, he was instrumental in delivering
the audience-led engagement strategy that drove
transformational growth in income and awareness. He
joins Diabetes UK two years into its 2020-2025 strategy
A Generation to End the Harm. At the heart of this
strategy are two core ambitions, first to to help people
live well and longer with diabetes, and second, to cure or
prevent diabetes.
In support of this, he will lead work to engage more
people than ever before with Diabetes UK's cause and
build a community of millions with the shared aim of
making life better for people affected by diabetes.
James Beeby, Diabetes UK.