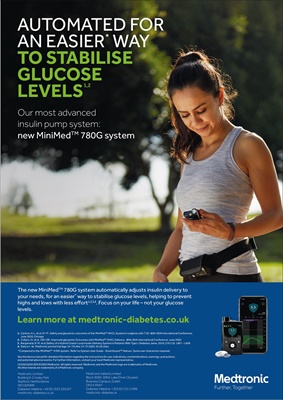 AUTOMATED FOR
AN EASIER
*
WAY
TO STABILISE
GLUCOSE
LEVELS
1,2
Our most advanced
insulin pump system:
new MiniMedTM 780G system
1. Carlson, A.L. et al. 97-P- Safety and glycaemic outcomes of the MiniMed™ AHCL System in subjects with T1D. 80th ADA International Conference,
June 2020, Chicago
2. Collyns .O. et al. 199-OR- Improved glycaemic Outcomes with MiniMed™ AHCL Delivery. 80th ADA International Conference, June 2020
3. Bergenstal, R. M. et al.Safety of a Hybrid Closed-Loop Insulin Delivery System in Patients With Type 1 Diabetes Jama. 2016; 316 (13): 1407 - 1408
4. Data on ile. Medtronic pivotal trial (age 14-75) Ahe 14-75 2020; 16 US sites
See the device manual for detailed information regarding the instructions for use, indications, contraindications, warnings, precautions,
and potential adverse events. For further information, contact your local Medtronic representative.
UC202102612EN ©2020 Medtronic. All rights reserved. Medtronic and the Medtronic logo are trademarks of Medtronic.
All other brands are trademarks of a Medtronic company.
The new MiniMedTM 780G system automatically adjusts insulin delivery to
your needs, for an easier* way to stabilise glucose levels, helping to prevent
highs and lows with less effort1,2,3,4. Focus on your life - not your glucose
levels.
*Compared to the MiniMed™ 670G system. Refer to System User Guide - SmartGuard™ feature. Some user interaction required.
Learn more at medtronic-diabetes.co.uk
Medtronic Limited
Building 9, Croxley Park
Watford, Hertfordshire
WD18 8WW
Diabetes Helpline: +44 (0) 1923 205167
medtronic-diabetes.co.uk
Medtronic Ireland Limited
Block 3090-3094, Lake Drive Citywest
Business Campus, Dublin
DN24 XN47
Diabetes Helpline: +353 (0) 15111499
medtronic-diabetes.ie