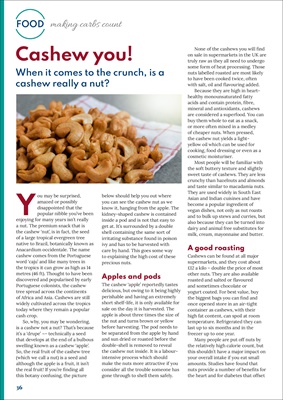 36
FOOD making carbs count
Cashew you!
When it comes to the crunch, is a
cashew really a nut?
You may be surprised,
amazed or possibly
disappointed that the
popular nibble you've been
enjoying for many years isn't really
a nut. The premium snack that is
the cashew 'nut', is in fact, the seed
of a large tropical evergreen tree
native to Brazil, botanically known as
Anacardium occidentale. The name
cashew comes from the Portuguese
word 'caju' and like many trees in
the tropics it can grow as high as 14
metres (46 ft). Thought to have been
discovered and popularised by early
Portuguese colonists, the cashew
tree spread across the continents
of Africa and Asia. Cashews are still
widely cultivated across the tropics
today where they remain a popular
cash crop.
So, why, you may be wondering,
is a cashew not a nut? That's because
it's a 'drupe' ¬- technically a seed
that develops at the end of a bulbous
swelling known as a cashew 'apple'.
So, the real fruit of the cashew tree
(which we call a nut) is a seed and
although the apple is a fruit, it isn't
the real fruit! If you're finding all
this botany confusing, the picture
below should help you out where
you can see the cashew nut as we
know it, hanging from the apple. The
kidney-shaped cashew is contained
inside a pod and is not that easy to
get at. It's surrounded by a double
shell containing the same sort of
irritating substance found in poison
ivy and has to be harvested with
care by hand. This goes some way
to explaining the high cost of these
precious nuts.
Apples and pods
The cashew 'apple' reportedly tastes
delicious, but owing to it being highly
perishable and having an extremely
short shelf-life, it is only available for
sale on the day it is harvested. The
apple is about three times the size of
the nut and turns brown or yellow
before harvesting. The pod needs to
be separated from the apple by hand
and sun dried or roasted before the
double-shell is removed to reveal
the cashew nut inside. It is a labourintensive
process which should
make the nuts more attractive if you
consider all the trouble someone has
gone through to shell them safely.
None of the cashews you will find
on sale in supermarkets in the UK are
truly raw as they all need to undergo
some form of heat processing. Those
nuts labelled roasted are most likely
to have been cooked twice, often
with salt, oil and flavouring added.
Because they are high in hearthealthy
monounsaturated fatty
acids and contain protein, fibre,
mineral and antioxidants, cashews
are considered a superfood. You can
buy them whole to eat as a snack,
or more often mixed in a medley
of cheaper nuts. When pressed,
the cashew nut yields a lightyellow
oil which can be used for
cooking, food dressing or even as a
cosmetic moisturiser.
Most people will be familiar with
the soft buttery texture and slightly
sweet taste of cashews. They are less
crunchy than hazelnuts and almonds
and taste similar to macadamia nuts.
They are used widely in South East
Asian and Indian cuisines and have
become a popular ingredient of
vegan dishes, not only as nut roasts
and to bulk up stews and curries, but
also because they can be turned into
dairy and animal free substitutes for
milk, cream, mayonnaise and butter.
A good roasting
Cashews can be found at all major
supermarkets, and they cost about
£12 a kilo - double the price of most
other nuts. They are also available
roasted and salted or flavoured
and sometimes chocolate or
yogurt coated. For best value, buy
the biggest bags you can find and
once opened store in an air-tight
container as cashews, with their
high fat content, can spoil at room
temperature. Refrigerated they can
last up to six months and in the
freezer up to one year.
Many people are put off nuts by
the relatively high calorie count, but
this shouldn't have a major impact on
your overall intake if you eat small
amounts. Studies have found that
nuts provide a number of benefits for
the heart and for diabetes that offset