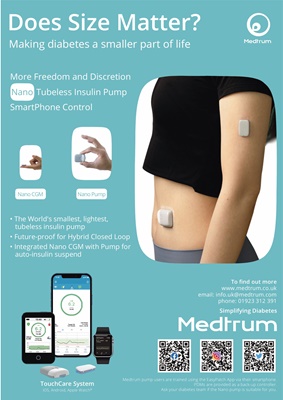 • The World's smallest, lightest,
tubeless insulin pump
• Future-proof for Hybrid Closed Loop
• Integrated Nano CGM with Pump for
auto-insulin suspend
Nano Pump
Nano CGM
TouchCare System
iOS, Android, Apple Watch®
Medtrum pump users are trained using the EasyPatch App via their smartphone.
PDMs are provided as a back-up controller.
Ask your diabetes team if the Nano pump is suitable for you.
Nano
More Freedom and Discretion
SmartPhone Control
Tubeless Insulin Pump
Does Size Matter?
Making diabetes a smaller part of life
To find out more
info.uk@medtrum.com title="Visit www.medtrum.co.uk">www.medtrum.co.uk
email: info.uk@medtrum.com
phone: 01923 312 391