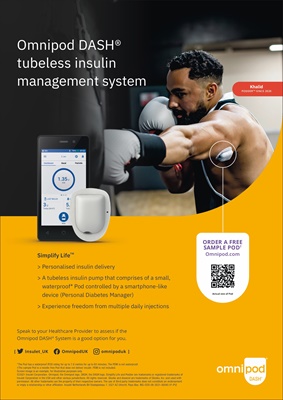 Omnipod DASH®
tubeless insulin
management system
Simplify Life
TM
> Personalised insulin delivery
> A tubeless insulin pump that comprises of a small,
waterproof* Pod controlled by a smartphone-like
device (Personal Diabetes Manager)
> Experience freedom from multiple daily injections
ORDER A FREE
SAMPLE POD†
Omnipod.com
Insulet_UK OmnipodUK omnipoduk
Khalid
PODDERTM SINCE 2020
*The Pod has a waterproof IP28 rating for up to 7.6 metres for up to 60 minutes. The PDM is not waterproof.
†The sample Pod is a needle-free Pod that does not deliver insulin. PDM is not included.
Screen image is an example, for illustrative purposes only.
©2021 Insulet Corporation. Omnipod, the Omnipod logo, DASH, the DASH logo, Simplify Life and Podder are trademarks or registered trademarks of
Insulet Corporation in the USA and other various jurisdictions. All rights reserved. Glooko and diasend are trademarks of Glooko, Inc. and used with
permission. All other trademarks are the property of their respective owners. The use of third party trademarks does not constitute an endorsement
or imply a relationship or other affiliation. Insulet Netherlands BV Stadsplateau 7, 3521 AZ Utrecht, Pays-Bas. INS-ODS-08-2021-00045 V1-Pt2
[ ]
Actual size of Pod
Speak to your Healthcare Provider to assess if the
Omnipod DASH® System is a good option for you.