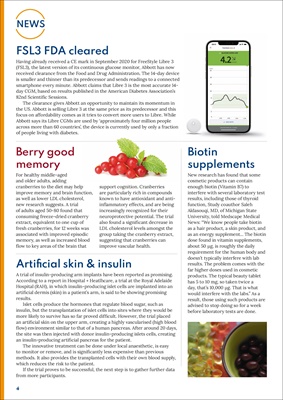 4
NEWS
FSL3 FDA cleared
Having already received a CE mark in September 2020 for FreeStyle Libre 3
(FSL3), the latest version of its continuous glucose monitor, Abbott has now
received clearance from the Food and Drug Administration. The 14-day device
is smaller and thinner than its predecessor and sends readings to a connected
smartphone every minute. Abbott claims that Libre 3 is the most accurate 14-
day CGM, based on results published in the American Diabetes Association's
82nd Scientific Sessions.
The clearance gives Abbott an opportunity to maintain its momentum in
the US. Abbott is selling Libre 3 at the same price as its predecessor and this
focus on affordability comes as it tries to convert more users to Libre. While
Abbott says its Libre CGMs are used by 'approximately four million people
across more than 60 countries', the device is currently used by only a fraction
of people living with diabetes.
Biotin
supplements
New research has found that some
cosmetic products can contain
enough biotin (Vitamin B7) to
interfere with several laboratory test
results, including those of thyroid
function, Study coauthor Saleh
Aldasouqi, MD, of Michigan State
University, told Medscape Medical
News: "We know people take biotin
as a hair product, a skin product, and
as an energy supplement... The biotin
dose found in vitamin supplements,
about 50 µg, is roughly the daily
requirement for the human body and
doesn't typically interfere with lab
results. The problem comes with the
far higher doses used in cosmetic
products. The typical beauty tablet
has 5 to 10 mg, so taken twice a
day, that's 10,000 µg. That is what
would interfere with the labs." As a
result, those using such products are
advised to stop doing so for a week
before laboratory tests are done.
Berry good
memory
For healthy middle-aged
and older adults, adding
cranberries to the diet may help
improve memory and brain function,
as well as lower LDL cholesterol,
new research suggests. A trial
of adults aged 50-80 found that
consuming freeze-dried cranberry
extract, equivalent to one cup of
fresh cranberries, for 12 weeks was
associated with improved episodic
memory, as well as increased blood
flow to key areas of the brain that
support cognition. Cranberries
are particularly rich in compounds
known to have antioxidant and antiinflammatory
effects, and are being
increasingly recognized for their
neuroprotective potential. The trial
also found a significant decrease in
LDL cholesterol levels amongst the
group taking the cranberry extract,
suggesting that cranberries can
improve vascular health.
Artificial skin & insulin
A trial of insulin-producing arm implants have been reported as promising.
According to a report in Hospital + Heatlhcare, a trial at the Royal Adelaide
Hospital (RAH), in which insulin-producing islet cells are implanted into an
artificial dermis (skin) in a patient's arm, is said to be showing promising
results.
Islet cells produce the hormones that regulate blood sugar, such as
insulin, but the transplantation of islet cells into sites where they would be
more likely to survive has so far proved difficult. However, the trial placed
an artificial skin on the upper arm, creating a highly vascularised (high blood
flow) environment similar to that of a human pancreas. After around 20 days,
the site was then injected with donor insulin-producing islets cells, creating
an insulin-producing artificial pancreas for the patient.
The innovative treatment can be done under local anaesthetic, is easy
to monitor or remove, and is significantly less expensive than previous
methods. It also provides the transplanted cells with their own blood supply,
which reduces the risk to the patient.
If the trial proves to be successful, the next step is to gather further data
from more participants.