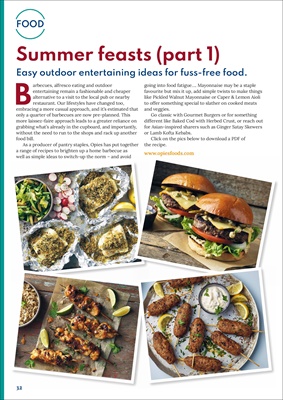 32
FOOD
SEEING RED
Award winning cider maker
Sandford Orchards has launched
Jubilee Limited Edition Devon
Red Cider. It is a celebration
of all things British and the
perfect thirst-quencher for any
festivities and celebrations. It
is created from British apples
grown and pressed in Devon,
using traditional methods, at
the oldest working cider mill in
the UK. The cider (ABV 4.5%) is
a perfectly balanced, refreshing
medium cider. It is a naturally
tasty and utterly delicious fresh
apple cider created from British
apples grown in orchards rooted
in the rich, red, fertile soil which
surrounds Sandford Orchards.
Founded in 2002, independent,
family-owned Sandford Orchards
is based in Crediton, an area
long known as one of the most
fertile parishes in all of Britain,
both for its grazing and ability
to grow apples. Crediton sits in
the lee of the moors, so receives
the right amount of rain and the
right units of heat in summer.
500ml bottles RRP £2.30 from
outlets including Aldi, Morrisons,
Spar and as well as selected pubs
and hospitality venues and from
RHUBARB RHUBARB!
With summer days with us, drinkers
are thirsty for new flavours to enjoy,
Edwards 1902, the award-winning,
premium English potato vodka -
has launched its latest product,
Rhubarb Vodka. Edwards 1902
English Rhubarb Vodka is 'summer
in a sip'. Fresh, zingy rhubarb is
balanced with the smoothness of
Edwards 1902, and each bottle is
naturally flavoured with locally
sourced, pure-pressed rhubarb
juice from the famous Yorkshire
Rhubarb Triangle. A perfect
summer tipple, make the most of
the longer evenings to celebrate
with friends. Edwards 1902 Rhubarb
Vodka is 100% British from 'soil to
spirit', distilled from King Edwards
potatoes grown across Yorkshire
and Lincolnshire. The English Potato
Vodka works in perfect harmony
with vibrant pressed rhubarb juice,
resulting in a smooth, fruity vodka
for use neat, over ice or in cocktails.
Furthermore, each bottle of Edwards
1902 English Rhubarb Vodka contains
approximately 30% pressed rhubarb
juice. The vodka is distilled at the
Elsham Wold Distillery, a stone's
throw away from where the first
King Edwards potato was cultivated
in 1902. Committed to supporting
local, Edwards grow their potatoes
and source their Rhubarb within
the county, as well as working with
a Yorkshire glass supplier for their
bespoke bottle; controlling the
production process of their spirits
'from soil to spirit'.
Edwards 1902 Rhubarb, £40, is
available from stockists or at Edwards
A LITTLE BIT OF LEMON
The days are longer and warmer, if
you want to the best way to enjoy
the taste of Italy, try Luscombe
organic Sicilian Lemonade. With its
strong flavour, this traditional still
lemonade is packed with the finest
Sicilian lemons rounded off with
an indulgent splash of Madagascan
vanilla. Sicilian Lemonade was one of
the first drinks Luscombe's founder,
Gabriel David, developed when he set
up Luscombe Drinks after returning
to the family farm from time living in
Sicily. He was inspired to recreate the
thirst-quenching tang of homemade
fresh lemonade. Luscombe has
been sourcing their organic Sicilian
lemons from Antonella in Palermo for
more than 10 years, with the lemons
harvested in mid-March. Recently
awarded a Royal Warrant, Luscombe
has been producing
beautifully crafted
drinks on a farm
in Devon since
1975. The range
now includes
organic fruit
juices, crushes,
bubblies, tonic
waters and mixers
plus a traditional organic Devon
cider. Luscombe's award-winning
range of drinks use the finest organic
ingredients and Dartmoor spring
water. The lemonade is 8 carbs per
100ml (all sugars). Sicilian Lemonade
is available in a box of 12 x 27cl
bottles £21.30 or a sharing box of
6 x 74cl bottles, £22.00 from www.
luscombe.co.uk