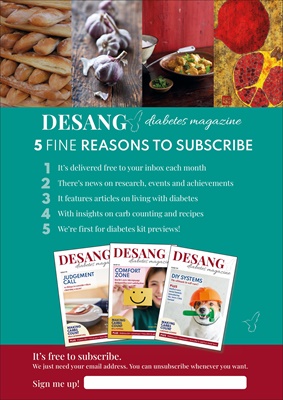 40
FOOD
FOR MORE FOOD
INFORMATION, RECIPES &
INSPIRATION, SEE OUR
NEW WEBSITE
making carbs count
Nutrition
Per serving:
Calories: 260kcal
Fat: 13.5g
Carbohydrates: 27.7g (of which
Sugar: 7g)
Fibre: 4.3g
Protein: 8.6g
Ingredients
• 165g uncooked quinoa
• 100-200g shredded red cabbage,
depending on how much crunch
you like
• 1 red bell pepper, diced
• small diced red onion
• 200g carrots, shredded
• handful chopped cilantro
• handful diced salad onions
• 100g cashews or peanuts roughly
chopped
• Juice of 1-2 fresh limes
Dressing:
• 50g peanut butter
• 3 tbsp soy sauce
• 1 tbsp honey
• 1 tbsp rice or red wine vinegar
• 2 tsp freshly grated ginger
• 1 tsp sesame oil
• 1 tsp olive oil
Method
1. To cook quinoa: In a medium
saucepan, bring 1 ½ cups of
water to a boil. Add in quinoa
and bring mixture to a boil.
Cover, reduce heat to low and
let simmer for 15 minutes or
until quinoa has absorbed all of
the water. Remove from heat
and fluff quinoa with fork; place
in large bowl and set aside to
cool for about 10 minutes. You
should have a little over 2 cups
of quinoa.
2. To make dressing: Add peanut
butter and honey or agave
to a medium microwave safe
bowl; heat in microwave for
20 seconds. Add in ginger, soy
sauce, vinegar, and both sesame
and olive oil and stir until
mixture is smooth and creamy.
If you want a thinner dressing,
simply stir in a teaspoon or two
of water or olive oil.
3. Add as much or as little
dressing as you'd like to the
quinoa. I always start out with a
little bit of dressing and usually
add more to suit my taste
preferences. Alternatively save
the dressing for later and add
when you are ready to eat.
4. Next fold in red pepper, onion,
cabbage, carrots, and cilantro
into the quinoa. Garnish with
cashews and green onions.
Serve chilled or at room
temperature with lime wedges,
if desired.
Recipe from Ambitiouskitchen.com
Crunchy Cashew Thai Quinoa Salad (serves 6)